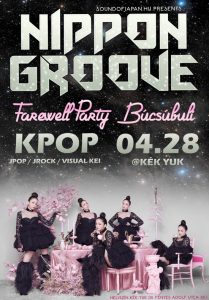 Nos, ezt ennél szebben azt hiszem nem lehehett volna befejezni. Sőt, az igazat megvallva szinte már csak ezért az egy buliért is megérte lenyomni ezt a 15 évet, annyira jól sikerült az utolsó NG. Pedig talán soha nem aggódtunk annyira, hogy egy buli hibátlanul sikerüljön, mint most, mert hát megtanultuk bőven az évek alatt, hogy bármikor bejöhet valami technikai gebasz, egy (vagy több) viselkedni képtelen idióta, vagy akár valami kellemesen ítéletidő kategóriás időjárás, ami mind keresztbe tud tenni egy tökéletes estének, de most semmi ilyen nem volt, hanem tényleg 100%-osra sikeredett minden. Nagyon sokan voltunk, hangulatban is elképesztő volt az este és szerencsére abszolúte nem arról szólt az egész, hogy jaj, szomorkodunk, meg búcsúzunk, hanem arról, hogy lezárunk egy eszement hosszúra nyúlt sikersztorit, ami nagyon sokaknak adott felejthetetlen emlékeket, ismerettségeket és még így utoljára tolunk közösen egy óriási bulit. És külön szenzációs volt, hogy mennyien tértek vissza a régi törzsvendégek közül, azok közül is akik régebben, hosszú évekkel ezelőtt jártak le rendszeresen, de olyanok is akadtak jópáran, akik már a legeslegelső, 2003-as bulinkon is ott voltak, vagy az azutáni 1-2 évben csatlakoztak hozzánk.
Zeneileg próbáltuk úgy alakítani az estét, hogy minden előkerüljön, ami fontos volt ez alatt a 15 év alatt, de mindezt úgy, hogy közben azért az újdonságok se maradjanak ki. Ez eredetileg eléggé lehetetlen feladatnak látszott, mert hát ennyi idő alatt azért irgalmatlan mennyiségű kötelező bulikedvenc termelődött ki, és habár persze voltak dolgok, amik kimaradtak, szerintem végül egész jól meg sikerült találni az arányt a klasszikusok és az aktuális favoritok közt. Sőt, kezdésnek, egy két órás JPop blokkal még a legkorábbi NG bulikhoz is visszakanyarodtunk, akkorra, amikor még bőven a japán vonal volt túlsúlyban. De már itt is keveredtek az akkori favoritok az újabbakkal és ez maradt később is, szóval előkerültek mégegyszer azok az alapdalok amik eddig is ott voltak az NG-ken legtöbbet játszott számok közt (ezekről a nagy összefoglalós cikk végén volt egy lista), volt pár ideig-óráig nagyon felkapott, majd az előadókkal együtt elfeledett régi közkedvenc és persze az utóbbi pár évben felbukkant frissebb csapatok zenéi is. Szóval szerencsére elég jól összejött ez a Best Of NG dolog zeneileg, a JRock kisteremben pedig, ami most átköltözött a klub KVLT részébe, szintén hasonló volt a tematika.
És azok, akik valaha is ott maradtak a Groove-okon zárásig, tudják, hogy utolsónak mindig valami egészen random zene szokott menni: hol valami fura hip-hop, hol valami tingli-tangli popzene, de legtöbbször régi klasszikus japán dalok a '60-as, '70-es évekből és ezek közül is a legtöbbet Momoe Yamaguchi egyik dala ment, méghozzá ez, szóval gondoltam most is tökéletes lesz zárásnak… és csak akkor vettem észre, hogy mi a szám címe… 15才の恋… azaz 15 sai no koi… azaz 15 éves szerelem. Szóval most komolyan, lehet ennél véletlenül-stílusosabban lezárni egy pontosan 15 éve futó sztorit? :D
Alább persze jönnek a képek, utána meg az utolsó NG tracklista, de előbb szeretnénk mégegyszer megköszönni mindenkinek, aki lejött erre a búcsúbulira és olyan felejthetetlenné tetté, amilyen volt, meg persze mindenkinek, aki korábban lejárt. A teljes NG stáb nevében: Köszi!!!! <3
NAGYTEREM / JPop + KPop
*Case
Namie Amuro: Want Me, Want Me
Awich feat. Young Juju: Remember
Jin Akanishi: Love Juice
J Soul Brothers: J.S.B Dream
Tomohisa Yamashita: Nocturne
Namie Amuro: Neonlight Lipstick
Pushim: Hey Boy
NEWS: Weeeek
Koda Kumi: Pop Diva
Jintaka: Choo Choo Shitain
KAT-TUN: Connect & Go
FEMM: Fxxk Boys Get Money
Mademoiselle Yulia: Harajuku Wonder
Namie Amuro: WoWa
Hinoi Team: Night Of Fire
KAT-TUN: Star Rider
Jin Akanishi: Hey What's Up?
Kis-My-Ft2: Shake It Up
J Soul Brothers: Share The Love
Namie Amuro feat. AI & Anna Tsuchiya: Wonder Woman
Junnosuke Taguchi: Flash
FEMM: Whiplash
Tomohisa Yamashita: Daite Senorita
NEWS: sayaendou
Verbal feat. Nicki Minay: Change Change
Namie Amuro: Namie's Style
KAT-TUN: The D-Motion
Jin Akanishi: Aphrodisiac
Capsule feat. Hazel Nuts Chocolate: Idol Fancy
Namie Amuro feat. After School: Make It Happen
KAT-TUN: Don't U Ever Stop
Rain: Rainism
SHINee: Ring Ding Dong
Se7en feat. T.O.P: Digital Bounce
iKON: Dumb & Dumber
Big Bang: Tonight
PSY feat. CL: Daddy
T-Ara: Bo Peep / Number 9 / Roly Poly / Lovey-Dovey / Sexy Love
EXO: Ko Ko Bop
NCT U: Boss
Jessi: Gucci
BTS: Not Today
DBSK: Mirotic
*Ji
Block B: H.E.R
Crispi Crunch: Thumbs Up
CL: Hello Bitches
Blackpink: Boombayah
PSY: Gangnam Style
Big Bang: Bang Bang Bang
Big Bang: Fantastic Baby
Bastarz: Conduct Zero
Teen Top: Rocking
SS501: Love Ya (G-Sweet remix)
2PM: Hands Up
Momoland: Bboom Bboom
G-Dragon: Crayon
Blackpink: As It Is Your Last
iKON: Rhythm Ta
Sunmi: Gashina
ChoPD: Friends
VIXX: Hyde
GD & Taeyang: Good Boy
NCT #127: Cherry Bomb
Jolin Tsai: Play
Unpetty Rapstars: Superstar
Teriyaki Boys: Tokyo Drift
T-Ara feat. Chopstick Brothers: Little Apple
NCT 2018: Black On Black
CLC: Like That
Seventeen: Just Do It
BTS: Blood, Sweet & Tears
G-Dragon: Bullshit
History: Queen
Taeyang: Ringa Linga
Monsta X: Stuck
Jay Park feat. Bizzy: Wasted
PSY feat. CL: Daddy
DJ DOC: Run To You
NCT U: Boss
U-Kiss: Forbidden Love
Super Junior: Rokkugo
*Case
K.A.R.D: Hola Hola
Pentagon: Shine
BTS feat. Desiigner: Mic Drop (Steve Aoki Remix)
Simon Dominic: Simon Dominic
Infinite: The Chaser
SHINee: Lucifer
EXILE feat. Far East Movement: Asobo!
Namie Amuro: In The Spotlight (Tokyo)
B.A.P: One Shot
B1A4: OK
Beast: Beautiful Night
Blackpink: Whistle
EXO: Lotto
Bigstar: Run & Run
Tiny-G: Miss Ya
VIXX: Chained Up
T.O.P: Doom Dada
Zico feat. Zion-T: Eureka
Taemin: Move
Seventeen: Very Nice
SF9: O Sole Mio
Super Junior: Sorry Sorry
Infinte: Destiny
Red Velvet: Peek-A-Boo
BTS: War Of Hormone
Donghae & Eunhyuk: Can You Feel It?
Orange Caramel: Catallena
BananaLemon: Girls Gone Wild
BTS: DNA
Koda Kumi: Party
iKON: Bling Bling
Monsta X: Trespass
Hyuna feat. Ilhoon of BTOB: Roll Deep
Seventeen: Jam Jam
BTS: Go Go
Block B: Nillili Mambo
VIXX: Voodoo Doll
KAT-TUN: Keep The Faith
*Ji
MBLAQ: Mona Lisa
Taemin: sayonara hitori
Orange Caramell: Lipstick
DBSK: "O"-Jung.Ban.Hap.
Super Junior: Black Suit
Beast: Good Luck
Wanna One: Boomerang
B.A.P.: Hurricane
VIXX: Error
*Case + Ji
2NE1: I Am The Best
*Case
Momoe Yamaguchi: 15sai no koi
KVLT / JRock & visual kei
* Neshi
Alexandros: Buzz Off
12012: Cheeky Doll
Acid Black Cherry: Shangrila
CindyKate: Night City Boy
Fest Vainqueur: Goldfinger'99
Kagrra: kami uta
A: Nude
T.M. Revolution: RAIMEI
Arlequin: Fiction
Coldrain: Fire in the sky
One OK Rock: Take me to the top
LM.C: Boys and Girls
Matenrou Opera: Dice
Fear and Loathing in Las Vegas: Shake Your Body
Kokkiwa Koji: DA DA DA
OLDCODEX: Rage On
Granrodeo: Crack Star Flash
DaizyStripper: uso to kagerou
Dir en Grey: Raison D'etre
X Japan: Scars
Dir en Grey: [KR]Cube
Satsuki: Pray For The Sun
Buck-Tick: Iconoclasm
Malice Mizer: Transylvania
X Japan: Week End
*Shin
the Gazette: Filth In The Beauty
Malice Mizer: Beast of Blood
T.M. Revolution: Resonance
Asian Kung-fu Generation: Haruka Kanata
FLOW: GO!!!
Maximum the Hormone: What's up People?
Miyavi: Horizon
One OK Rock: No Scared
Crossfaith: Omen
the Gazette: Falling
LM.C: Ghost Heart
Buck-Tick: Muma -The Nightmare-
Screw: Fugly
The Thirteen: Chainsaw
Gackt: Ever
Miyavi: Senor Senora Senorita
Alice Nine: Rainbows
Luna Sea: Dejavu
An Cafe: Maple Gunman
the Gazette: Ugly
Iceman: Shining Collection
L'arc en Ciel: Ready Steady Go!
One OK Rock: Onion
D'espairsRay: Love Is Dead
the Gazette: Inside Beast
Miyavi: Raise Me Up
Oral Cigarettes: Hey Kids!
* Neshi
D'espairsRay: Forbidden
the Gazette: hedoro
Sukekiyo: hakudou
MUCC: Classic
Girugamesh: mouja to koushin
Dezert: Hentai
Babymetal: Megitsune
One OK Rock: Re:make
Sukekiyo: kubitsu yuu
D'espairsRay: Garnet
LadyBaby: Nippon Manjuu
Nocturnal Bloodlust: Strike Infact
Glay: yuuwaku
Gackt: Ghost
the Gazette: Venomous Spider's Web
Kiryu: minagoroshi
DIMLIM: The Silent Song
Babymetal: Road Of Resistance
The Gallo: yami uta
LM.C: Punky Heart
Matenrou Opera: Gloria
One OK Rock: Deeper Deeper
Flow: Colors
Maximum the Hormone: Chu Chu Lovely
*Shin
Girugamesh: Gravitation
OZ: Bitter and Sweet
Dadaroma: Lucid Dream
the Gazette: Silly God Disco
Mejibray: Agitato Grimorie
LM.C: Oh my Juliet
Miyavi: Day 1
One OK Rock: Kanzen Kankatsu Dreamer
Hello Sleepwalkers: DNA
My First Story: Alone
Miyavi: Neo Visualizm
Gackt: Vanilla
Golden Bomber: Dance My Generation
the Gazette: Dogma
UverWORLD: Corepride
Miyavi: The Others