Immár évek óta mindig tartunk egy speckó nyári bulit és a mostanira minden eddiginél jobban rákészültünk… még vizipisztolyokat is beszereztünk és ledumáltuk, hogy kint az udvaron lehessen lövöldözni velük. Vagyis minden megvolt… csak maga a nyár maradt el. Vagyis pontosabban visszavonulót fújt erre a hétre a korábbi kánikula után. Szóval inkább lefújtuk a fröcskölős terveket és a meghagytuk a négy falon belülre a strandhangulatot, ahol viszont tobzódás volt: úszógumik, bubifújók és strandlabdák tömkelegével mindenhol.
Meg zeneileg is igyekeztünk tartani a nyáriasabb hangulatot, plusz persze akadt egy halom új zene is: mindenek előtt Big Bang, nomeg EXO, Booty Bronx, Jang Hyunseung és persze SHINee! Folytatás júliusban duplán! Ugyanis a nyár legsűrűbb napján, július 11-én a Nyári Mondocon és a szintén aznapi Boys Republic koncert után csinálunk afterparty-t, majd két hétre rá a jön a KPop World Festival ami után szintén mi intézzük az aftert. Szóval sűrű lesz a program, node igazából nincs mit csodálkozni ezen, elvégre is a nyár azért jórészt a bulizásról szól. :D
Képek >> CLICK! << Photos
NAGYTEREM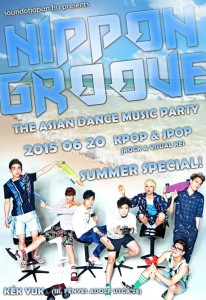 *Case
Hierophant Green: You You You
Towa Tei: Melody (Grant Nelson's M25 Remix)
The Samos: Dance Music
Ayumi Hamasaki: Lelio
m-flo: All I Want Is You (Ken Oshima emix)
Tomohisa Yamashita: Let It Go
Namie Amuro: Hot Girls (Smidi Club Remix)
Crayon Pop: Bar Bar Bar (Ferry Bootleg)
Generations: Brave It Out
4Minute: Volume Up (Epitone Cub Remix)
Jo Kwon: Animal
G-Dragon: Nilira feat. Missy Elliot
EXO-K: Two Moons
BTS: Cypher Pt.3 Killer feat. Supreme Boi
The Second from EXILE: Headbangin'
Rap Monster: Do You
Team H: Can't Stop (Remastered Version)
Bobby: L4L (Lookin' ForLuv) feat. Dok & The Quiett
Henry: 1-2-4 (I Love You)
VIXX: Error
D-Lite: Nalbwa Gwisoon (Look At Me, Ggisun)
Wonder Girls: The DJ Is Mine
Jay Park: Taekwondo
Block B: H.E.R.
Bastarz: Conduct Zero
Taemin: Pretty Boy feat. Kai of EXO
Verbal: Change Change feat. Nicki Minaj
GD x Taeyang: Good Boy
Akanishi Jin: Bass Go Boom
BTOB: Beep Beep
GOT7: Girls Girls Girls
Jay Park: Mommae feat. Ugly Duck
T.O.P: Doom Dada
Jimin N J.Don: GOD
Jang Hyunseung: Ma First feat. Giriboy
Taeyang: Good Boy
Big Bang: Tonight
Big Bang: Fantastic Baby
Big Bang: Bang Bang Bang
*Ji
Crispi Crunch: Zzang Zzang Men
T-Ara: Sugar Free
B.A.P: Hurricane
4Minute: Crazy
Block B: Nillili Mambo
Beast: Shock
DJ Doc: Play
DJ Doc: One Night
DBSK: Mirotic
DJ: Doc: I'm A Guy Like This
2NE1: I'm The Best
Lee Junh Hyun: Wa
Crossfaith: Omen
Miyavi: Horizon
EXiD: Ah Yeah
DJ Hanmin: Put Your Phones Up feat. Crispi Crunch
Orange Caramell: Lipstick
C-Clown: Let's Love
Defcon: Frankenstein
Beast: It's Me
Junusean: Tell Me One More Time feat. Jang Hanna
Shinee: Ring Ding Dong
M.I.B: Chisa' Bounce
CNBlue: I'm A Loner
Cho PD: Friends
Bastarz: Conduct Zero
EXO: Overdose (Korean)
G-Dragon: Crayon
JYP: Who's Your Mama?
2PM: Hands Up
Red Velvet: Ice Cream Party
Crispi Crunch: Thumbs Up
Duke: Starian
Dexpistols: Saturdays vs Bird Of Paradise
*Case
Ko Matsushima & Booty Bronx: Key Girl
Capsule: Dreamin' Boy
Beast: Adrenaline
EXO: Call Me Baby (Korean)
Monsta X: Tresspass
SHINee: View
UNIQ: EOEO
UKiss: Let's Get
Akanishi Jin: Hey What's Up?
Arashi: Face Down
Teen Top: Rockin'
Super Junior: Sexy Free & Single
T-Ara: Number 9
VIXX: Voodoo DOll
Block B: Very Good (DJ Ferry Remix)
GD&TOP: High Hight (Epitone Dirty Dutch Remix)
Yooh: Solomon
2PM: Go Crazy
AOA: Like A Cat
BTS: War Of Hormone
EXID: Up & Down
EXO: Love Me Right (Korean)
Hello Venus: Wiggle Wiggle
B.A.P: Warrior
2NE1: Falling In Love
f(x): Hot Summer
Beast: Beautiful Night
Donghae & Eunhyuk: Can You Feel It?
Kis-My-Ft2: Shake It Up
Bigstar: Hotboy
Boys Republic: Party Rock
Amber: Shake That Brass feat. Taeyeon
BTS: Danger
Jimin & Iron: Puss
2NE1: MTBD (CL Solo)
Super Junior: Mamacita
Orange Caramel: Catallena
G-Dragon: Heartbreaker
Madtown: YOLO
Erik Sumo & The Fox-Fairies: Dance Dance Have A Good Time
BTS: Jump
Beast: Good Luck
Hyuna: Red
Rain: 30Sexy
Hiromi: Oh Oh
*Ji
Big Byung: Stress Come On
Steve Aoki & Chris Lake & Tujamo: Boneless
Big Bang: Bang Bnag Bang
T-Ara: Little Apple feat. Chopstick Brothers
GOT7: Love Train
BTS: I Need You
Jolin Tsai: Play
DGNA: Rilla Go
2NE1: Fire
T-Ara: Lovey Dovey
*Case
Super Junior-T: Rokkugo!!!
Kara: Mamma Mia
Scarlet: Hip Song
Raina: Up
Kahimi Karie: Nana
KISTEREM
*Kazuya
Tetsuya Shibata: Baroque and Beats
Luna Sea: Storm
Matenrou Opera: Faust
Tommy Heavenly6: Shut Up
Akima & Neos: kaze ha mirai ni huku
Metal Gear Rising OST: A Stranger I Remain
the brillinant green: Ash Like Snow
Okino Shuntaro: Cloud age symphony
Kenji Ootsuki: kuusou Rumba
T.M. Revolution: Web of Night
Hirano Aya & Chihara Minori & Yuko Goto: hare hare yukai
Kenn: touchousha tachi
Sadie: Silent Eve
Yui: Rolling Star
The Stripes: Loosey
V6: Change The World
Negima! OP: Happy Material
Hysteric Blue: Cocktail
Girugamesh: goku
Galneryus: Cry For The Dark
D: ouka saki some ni keri
Blood Stain Child: Final Sky
DJ Sisen: yokubaku
Babymetal: akatsuki
Mucc: Dejavu
Maximum the Hormone: Buiiki Kaesu!!
*Neshi
Dir en Grey: Child Prey
Golden Bomber: Dance My Generation
Fear And Loathing In L.A.: Shake Your Body
Deathgaze: Blood
Nana: Rose
Nightmare: Dirty
Malice Mizer: Ju Te Veux
D'espairsRay: Born
Velvet Eden: tsuki-kumo Nocturne
Crossfaith: Monolith
One OK Rock: kanzen kankatsu Dreamer
Spyair: Just One
Abingdon Boys School: Stealth
One OK Rock: No Scared
Flow: GO!
Coldrain: Die Tomorrow
Dir en grey: Revelation of Mankind
Crossfaith: Omen
One OK Rock: The Beginning
the GazettE: Suicide Circus
Gackt: Ghost
the GazettE: Leech
DespairsRay: Redeemer
Royz: Liliah
TM Revolution: Invoke
SID: V.I.P
Gazette: chizuru
Nijigen Complex: My Dragon
Dir en grey: Different Sense
*Kazuya
One OK Rock: Deeper Deeper
Girugamesh: Dance Rock Night
the GazettE: Psychedelic Heroin
Girugamesh: owari to mirai
Maximum the Hormone: chu chu Lovely muni muni mura mura purin purin boron nururu rero rero
High & Mighty Color: ichiri no hana
D'espairs Ray: Kamikaze
Babymetal: megitsune
Maximum the Hormone: Zetsubou Billy
Asian Kung-fu Generation: Rewrite
the GazettE: Filth in the Beauty
D'espiars Ray: Hollow
Korn: Blind
Rammstein: Mein Hertz Brennt
Limp Bizkit: Rollin
The Prodigy: Invaders Must Die
Bloodhound Gang: The Bad Touch
Evanescence: Bring Me to life
Slipknot: Wait & Bleed
Nightwish: Wish I Had an Angel
The Rasmus: In the shadows
Bullet for my Valentine: Hand of Blood
Foo Fighters: The Pretender
Nirvana: Smells Like Teen Spirit
Marilyn Manson: mObscene
Bon Jovi: You Give Love a Bad name
David Hasselhoff: True Survivor
Alice Cooper: Poison
Bon Jovi: It's My Life
Alien Ant Farm: Smooth Criminal
Eiffel 65: Blue
Scatman John: Scatman
Kernkraft 400: Zombie Nation
Darude: Sandstorm
A-Ha: Take on Me
*Neshi
Anna Tsuchiya: Rose
Miyavi: Ahead Of The Light
the GazettE: Regret
TM Revolution: Resonance
Vamps: Trouble
Gackt: Vanilla
Coldrain: The War Is On
Nano: no pain, no game
Acid Black Cherry: Murder Licence
Girugamesh: Anticon Pit
yousei teikoku: Last Moment
Nano: Magenta
Nocturnal Bloodlust: Rebellion
Miyavi: Are You Ready To Rock?
the GazettE: Vortex
Fest Vainueur: Goldfinger '99
hide: Tell Me