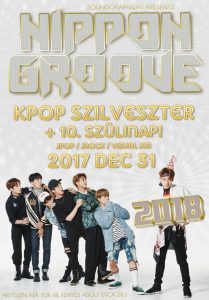 NAGYTEREM
*Case
Hinano Yoshikawa: One More Kiss
hitomi: aidoru wo sagase
dream: Night Of Fire
key-a-kiss: darakassu (Eurobeat remix)
Chiaki: Bee
Kome Kome Club: Shake Hip!
Wonder Girls: So Hot
BTS: Cypher Pt.3 Killer feat. Supreme Boi
Rain: Rainism
Rap Monster: Do You
I.O.I: Pick Me
T-Ara: Sugar Free
Capsule: I Just Wanna xxx You
Super Junior: Blue World
Taemin: Danger
Monsta X: All In
Jay Park feat. Dok2: Trill
Seventeen: OMG
SF9: Roar
G.Soul feat. Hoody: Tequila
GOT7: Hard Carry
AOA: Like A Cat
Hyuna: How's This?
Bobby (Mobb): Holup!
BTS: Fire
UP10TION: Runner
Bastarz: Zero Conduct
JP The Wavy feat. Salu: Cho Wavy De Gomenne
K.A.R.D.: Rumor
CL: Lifted
GD x Taeyang: Good Boy
Blackpink: Playing With Fire
EXO: Power
Crayon Pop: Doo Doom Chit
VIXX: Error
B.A.P: That's My Jam
EXID: DDD
Jessi: Gucci
Zico feat. Penomeco, The Quiett: Yes Or No
Chanmina faet. Messhi: miseinen (New Mix)
BTS: Not Today
Monsta X: Shine Forever
EXO: Ko Ko Bop
Blackpink: Whistle
K.A.R.D.: Hola Hola
Awich feat. Young Juju: Remember
PSY feat. CL: Daddy
*Ji
G-Dragon: Bullshit
Blackpink: Boombayah
Hwangteaji: Mapsosa
VIXX: Error
C-Clown: It's Love
**2018**
BTS: Blood, Sweet & Tears
Block B: H.E.R
Hyuna: Lip & Hip
PSY: Fact Abuse
SHINee: Lucifer
GD & TOP: High High
Chopstick Brothers feat. T-Ara: Little Apple
EXID: Up & Down
4Minute: Crazy
CL: Hello Bitches
24K: Super Fly
SHINee: Ring Ding Dong
2NE1: I Am The Best
PSY: Gangnam Style
U-Kiss: Neverland
G-Dragon: Crayon
Hyuna: Red
B.A.P: Hurricane
Teen Top: Rocking
Exile The Second feat. Far East Movement: Asobo!
Steve Aoki: Boneless
BTS: Mic Drop (Steve Aoki Remix)
Ikon: Rhythm Ta
Sunmi: Gashina
History: Queen
*Case
Simon Dominic: Simon Dominic
Winner: Really Really
Jay Park feat. Ugly Duck: Mommae
Jessi: sseunni
Seventeen: Clap
Donghae & Eunhyuk: Can You Feel It?
Teriyaki Boyz: Tokyo Drift (Marc Van Quest & BMB Brothers Mix)
Big Bang: Bang Bang Bang
SF9: O Sole Mio
EXO: Call Me Baby
Taemin: Move
Wanna One: Burn It Up
Wanna One: Energetic
BTS: DNA
Yoo Jae Suk x EXO: Dancing King
Jintaka: Choo Choo Shitain
Twice: TT
Monsta X: Dramarama
Zico feat. Crush, Dean: Bermuda Triangle
B.A.P: Wake Me Up
Pentagon: Gorilla
VIXX: Voodoo Doll
PSY: New Face
Block B: Nillili Mambo
BTS: War Of Hormone
Super Junior: Mamacita
Monsta X: Trespass
Seventeen: Very Nice
Mobb feat. Kush: Hit Me
SF9: Fanfare
K.A.R.D.: Oh NaNa
Taemin: sayonara hitori
Twice: Likey
Heechul, Shindong, Eunhyuk, Solar: Charm Of Life
GOT7: Just Right
NCT 127: Limitless
Super Junior: Sorry Sorry
T-Ara: Sexy Love
Block B: Jackpot
GD & TOP: High High (Epitone Dirty Dutch Remix)
Orange Caramel: My Copycat
Wekimeki: I Don't Like Your Girlfriend
EXO: Lotto
G-Dragon feat. Flo Rida: Heartbreaker
EXID: Up & Down
VIXX: Chained Up
Lay: Sheep
Hello Venus: I'm Ill
*Ji
Pristin: Black Widow
Hello Venus: Wiggle Wiggle
BTS: Fire
BTS: Dope
Big Bang: Fantastic Baby
EXID: DDD
MBLAQ:Mona Lisa
Beast: Shock
SS501: Love Ya (G-Sweet remix)
*Case
EXO: Overdose
EXID: Hot Pink
Ravi feat. San E: Bomb
K.A.R.D.: Don't Recall
EXO: Love Me Right
Young Coco feat. Jin Dogg: abe$hi
KISTEREM
*Shin
Yooh: Solomon
Miyavi: Futuristic Love
Mucc: Classic
Gackt: Asrum Dream
Sarai Mikoto: Identity
Nano: Savior of Song
Nocturnal Bloodlust: Libra
Plastic Tree: Kokuhako
Anna Tsuchiya: Frozen Rose
Dir en Grey: akuro no oka
Miyavi: Ahead of the Light
Sadie: setsugekka
Kagrra: Kotodama
Fear, and Loathing in Las Vegas: Chase The Light
And: Liberate
Egoist: ganzai no akari
Zwei: junjo Spectra
Anna Tsuchiya: Ah Ah
Sound Horizon: gyourou no uta
Acid Black Cherry: Glamorous Sky
Gackt: Episode
Man Without A Mission: From Youth To Death
Miyavi: Day 1
Aural Vampire: Freeze!
*Neshi
Buck-Tick: Muma ~The Nightmare~
Glay: kuroku nure
Girugamesh: Color
D'espairsRay: Redemeer
Nightmare: Believe
Nightmare: Hate
Crossfaith: Jägerbomb
Nightmare: Tokyo shounen
Ladybaby: Nippon Manjuu
One OK Rock: Stuck In The Middle
SiM: Killing Me
Alice Nine: Rainbows
LM.C: Game Of Life
GazettE: Venomous Spider's Web
hide: Rocket Dive
the GazettE: Bizarre
X Japan: Week-end
the GazettE: Suicide Circus
Matenrou Opera: Gloria
Suzaku: magaru suiren kakeru
Reign: Club Bunny
Acid Black Cherry: Re:Birth
Nightmare: Dirty
An Cafe: Maple Gunman
D: Dying Message
D: Egg Supermacism
One OK Rock: Fight the Night
One OK Rock: Mighty Long Fall
*Shin
Crossfaith: Omen
Miyavi: Horizon
One OK Rock: No Scared
the GazettE: Incubus
Royz: Lilia
Mucc: Libra
Buck-Tick: kuchizuke
-OZ-: Mirror
Miyavi: The Others
Maximum The Hormone: Zetsubou Billy
My First Story: Alone
Dir en Grey: Cage
Miyavi: Neo Visualizm
RottenGraffty: 70cm Shihou no Madobe
Nano: My Liberation
The Oral Cigarettes: kyouran Hey Kids!!
Iceman: Shining Collection
LM.C: Boys & Girls
An Cafe: Maple Gunman
Arlequin: zou
the GazettE: Leech
Scapegoat: kyuzetsu
Dir en Grey: Obscure
Dadaroma: Lucid Dream
Deluhi: G.A.U.D.
*Neshi
Satsuki: Pray For The Sun
Versailles: Ascendead Master
Buck-Tick: Future Song
D'espairsRay: Lost Scene
Revo: guren no yumiya
Fest Vainqueur: Goldfinger '99
Malice Mizer: Ju Te Veux
Kiryu: Amaterasu
Maximum The Hormone: Chu Chu Lovely Muni Muni Mura Mura Purin Purin Boron Nururu Rero Rero
Acid Black Cherry: Kuroneko
Matenrou Opera: Independent
T.M. Revolution: raimei
Spyair: Strong
An Cafe: Kakusei Heroism
Golden Bomber: konya mo nemurenai
Miyavi: Senor Senora Senorita
Sincrea: La Paroma
Matenrou Opera: Burning Soul
Zonbi: kusari hime
The Oral Cigarettes: Miss Tail
X Japan: kurenai
Galneryus: Future Never Dies