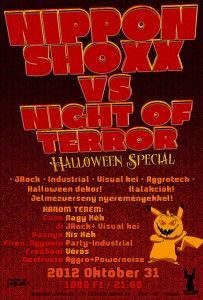 Kék Yuk (nagyterem): Nippon Shoxx #37
DJk: Case + Ji (JRock és Visual kei)
Kék Yuk (kisterem)
DJk: Kazuya + Firen_Aggonix (Party-goth & party-rock!)
Vörös Yuk: Night Of Terror
DJk: FreeSoul, Destructo, Firen_Aggonix, Phobos, Neko
(electro-industrial, powernoise, aggrotech)
A tavaly a Night Of Terror csapattal tartott közös Halloweent sokan az év bulijának szavazták meg utólag, ami miatt egyrészt egyértelmű volt, hogy idén újrázunk, másrészt meg ugye eléggé magasra került a léc, szóval bele kellett húznunk, hogy idén is hozzuk a tavalyi szintet (minimum). Emiatt már nagyon korán elkezdtük a szervezést, szerencsére dátumnak megkaptuk az október 31-et, ami idén egy hosszúhétvége előttre eső szerda volt (és ami miatt a Yuk az előző hétvégén tartotta a saját Halloween buliját), nomeg online és offline is mindenhol, ahol csak lehet behirdettük a party-t, ami most a tavalyival ellentétben nem két, hanem három termes volt.
A Kék nagytermében a Nippon Shoxx, míg a Vörösben a Night Of Terror csapat (két vendéggel, Phobos és Neko személyében) uralta a terepet, a Kék kistermében pedig újdonságként Kazuya és Firen képviselte a rock, goth, industrial zenék partizósabb irányvonalát, Rammsteintől a Kornig, Mansontól a  Rob Zombie-ig. Persze mindenhol előtérben voltak az alkalomhoz illő zenék, jópár This Is Halloween feldolgozással, a nagyteremben pedig Candy Spooky Theater dalokkal, meg persze a Halloween Junky Orchestra féle Halloween Party őrülettel. Habár a tavalyi 500+ fős rekordot nem sikerült hozni, de azért közel voltunk hozzá és nagyon sikeresnek bizonyult a háromtermes megoldás is, mindhárom hely gyakorlatilag egész este tele volt és szerencsére idén is rengetegen érkeztek beöltözve a kisértetes, csontvázas, koponyás dekorral telepakolt klubba. Éjjel egykor tartottuk a jelmezverenyt, ahol most az előző évvel ellentétben zsűri döntött az első háromról, plusz volt két közönségdíjasunk is (képek róluk itt rögtön alább). De a díjazottakon kívűl is rengeteg telitalálat smink és koszüm volt, azt este képeiből lent láthattok egy kis izelítőt, a többit pedig szokás szerint a fórumon találjátok meg.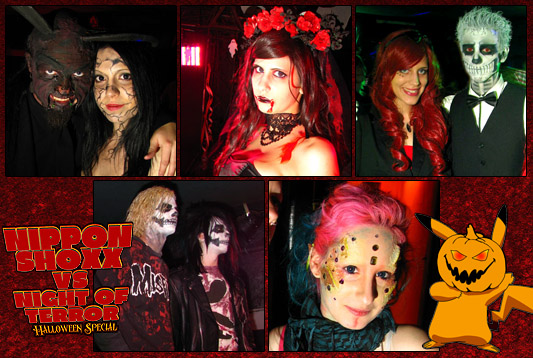 Következő party a december elsejei Nippon Groove lesz az addigra már tényleg teljesen átalakult, felújított Pulse (ex-Kashmir) klubban, szilveszterkor pedig, ahogy szoktunk, most is a Yukban ünneplünk, egy mindent-bele Nippon Shoxx / Nippon Groove bulival.
Kék Yuk nagyterem tracklista:
* Case
cali=gari: 187
Noir fleurir: omocha no Miisha
Buck-Tick: Mona Lisa
Schwein: My Sanctuary
Schaft: Arbor Vitate
kein: Flashback The Newsman
Xa-Vat: Zerotica
Dir en grey: Mask
Ziyoou-vachi: matsu onna
hide: Rocket Drive
Buck-Tick: Love Letter
Dué le quartz: Rodeo
Dir en grey: Obscure
DéspairsRay: Hollow
the GazettE: Vermin
LM.C: Boys & Girls
The Candy Spooky Theater: Trick Or Treat
L'Arc~en~Ciel: All Dead
OZ: Detox
Versailles: Shout & Bites
Lolita23q: Pheromone Cherry
Gackt: Redemption
D: Nocturnal
Phantasmagoria: Neo Ark
Buck-Tick: dokudanjou Beauty
One OK Rock: Re:Make
Crossfaith: Omen
Maximum The Hormone: What's Up, People!!
AnCafé: Ryuusei Rocket
Versailles: Zombie
Sadie: Meteor
* Ji
Dir en grey-The IIID Empire
X Japan: X
Dir en grey: Filth
SiM: Killing Me
Deathgaze: Abyss
Merry: Violet Harenchi
Mucc: dakku
G-Dragon: Crayon
PSY: Gangnam Style
Big Bang – Fantastic Baby (Dolce n Bond Remix)
T-Ara: Roly Poly
One OK Rock: kanzen kankaku Dreamer
Malice Mizer: Baptism Of Blood
The Candy Spooky Theater: This Is Halloween
Halloween Junky Orchestra: Halloween Party
The Candy Spooky Theater: The Living Dead
* Case
Malice Mizer: Beast Of Blood
the GazettE: Suicide Circus
Dir en grey: Merciless Cult
Inoran: No Option feat. Anna Tsuchiya
Screw: Xanadu
** Jelmezverseny! **
Buck-Tick: ijin no yoru
Versailles: Vampire
ViViD: yume ~mugen no kanata~
Buck-Tick: muma -The Nightmare-
Sadie: toge
Maximum The Hormone: koi no Megalover
An Cafe: Maple Gunman
Crossfaith: Monolith
Luna Sea: Rosier
Matenrou Opera: Psychic Paradise
the GazettE: Attitude
An Cafe: Amazing Blue
Alice Nine: Rainbows
* Ji
Goth-Trad: Far East Assassin
DéspairsRay: Forbidden
Glay: Verb
Satsuki: Pray For The Sun
Glay: Two Bell Silence
Dir en grey: Raison d'etre
Block.B: Nillili Mambo
2NE1: I Am The Best
Aicle: Psycholetter
OZ: Venom
Gackt: Ghost
Screw: Brainstorm
Glay: yuuwaku
Versailles: Ascendead Master
LM.C: Game Of Life
Kiryu: kyousei
Gazette: No. 666
Dir en grey: Child Prey
DéspairsRay: Dears
* Case
Royz: Innocence
One OK Rock: koi no aibou kokoro no Cupid
An Cafe: Cherry saku yuuki
Girugamesh: Zecchou Bang!!
CNBlue: In My Head
Kat-Tun: Keep The Faith
Asian Kung-Fu Generation: haruka kanata
Sadie: This Is Halloween
Gackt: Vanilla (Mars Version)
SiM: Killing Me
Lycaon: Aventure
Versailles: Truth
Gazette: Filth In The Beauty
Halloween Junky Orchestra: Halloween Party
LM.C: Punky Heart
Vamps: Devil Side
One OK Rock: The Beginning
Maximum The Hormone: Zetsubo Billy
Fear, and Loathing In Las Vegas: Scream As Hard As You Can
Anna Tsuchiya: Rose
G-Dragon: One Of A Kind
Közi: Honey Vanity
Steve Aoki & Angger Dimas feat. Iggy Azalea: Beat Down
Kék Yuk (kisterem) tracklista by Kazuya:
21:00 – 00:45
Silent Hill OST: Silent Hill
Anthrax: Madhouse
Black Sabbath: Paranoid
Metallica: The Memories Remain
Atreyu: The Vampire's Lament
Pantera: I'm Broken
Rob Zombie: Scum of the Earth
Slayer: Raining Blood
Marilyn Manson: mOBSCENE
Korn: Blind
Slipknot: Duality
Avenged Sevenfold: Beast and the Harlot
Ozzy Osbourne: Let Me Hear You Scream
Marilyn Manson: This is the New Shit
Korn: Kidnap the Sandy Claw
Pearl Jam: Do the Evolution
Metallica: Master of Puppets
Marilyn Manson: Heart Shaped Glasses
Rammstein: Benzin
Lordi: Devil is a Loser
Motörhead: Ace of Spades
Nirvana: Smells Like Teen Spirit
Slipknot: Before I Forget
Dethklok: Aweken
Amon Amarth: Death In Fire
Disturbed: Meaning of Life
Rob Zombie: Super Charger Heaven
Rammstein: Feur Frei
Rammstein: Ich Will
Pantera: Walk
Slayer: Final Six
Powerman 5000: Bombshell
Deathstars: Blitzkrieg
Rammstein: Du Hast
Necrogoblikon: Nekropolis
Crossfaith: Omen
Marilyn Manson: The Fight Song
Dir en Grey: Obscure
Dir en Grey: Agitated Screams of Maggots
Samael: Slavocracy
Mudvayne: Dig
Slipknot: People=Shit
Ensiferum: Into Battle
Children of Bodom: Hate Me
Nightwish: Wish I Had An Angel
Marilyn Manson: This is Halloween
Rammstein: Moskou
Pantera: Cowboys From Hell
Blind Myself: Lost In Time
Maximum the Hormone: What's Up People!
High & Mighty Color: ichirin no hana
The Agonist: Thank You Pain
Steel Panther: Death To All But Metal
Killswitch Engage: Holy Diver
Slipknot: Psychosocial
02:00 – 05:00
Pendulum: Blood Sugar
Nekrogoblikon: The Goblin Rangers
Korpiklaani: Vodka
Korpiklaani: Beer Beer
Ensiferum: Iron
Korn: Did My Time
Pantera: Domination
Linkin Park: Faint
Dethklok: Fan Song
Linkin Park: Pushing Me Away
Deathstars: Motherzone
Rammstein: Waidmanns heil
Electric Six: Gay bar
Eric Caldrone: Gangnam Style
Eric Caldrone: Back To The Future
Disturbed: Ten Thousand Fists
Black Stone Cherry: Lonley Train
Guns'n'Roses: Welcome To The Jungle
Guns'n'Roses: Paradise City
Papa Roach: Getting Away With Murder
Korn: Hear To Stay
Disturbed: Land of Confusion
Linkin Park: Don't Stay
Pantera: This Love
System of a Down: Chop Suey!
Metallica: Fuel
Megadeth: Kick The Chair
Metallica: All Nightmare Long
Spiderbait: Black Betty
Wolfmother: Woman
System of a Down: Deer Dance
System of a Down: Forest
Serj Tankian: Lie Lie Lie
System of a Down: B.Y.O.B
AudioSlave: Show Me How To Live
Billy Talent: Tears Into Wine
Korn: Right Now
Drowing Pool: Bodies
Drowing Pool: Step Up
Leander: Szívidomár
Rammstein: Mein Hertz Brennt
RA2: Hell March 2
AC/DC: Shoot The Thrill
Blind Myself: A fekete lovag mindig győz!
Avenged Sevenfold: Gunslinger