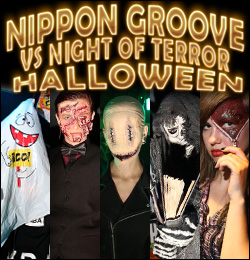 Még 2011-ben csináltunk először közös Halloweent a Night Of Terror csapatával és azóta rendszeresen ez az év legnagyobb dobása számunkra bulik szempontjából, a Yuk két részének egybenyitásával, három teremmel, rengeteg zenei műfajjal… és főleg hatalmas tömeggel. Idén is már előre sejteni lehetett, hogy sokan leszünk és végül megint több mint ötszázan (!) gyültünk össze, ami egészen elképesztő és kb. duplája a havi Nippon Groove bulikon megszokottnak. Hogy mitől van ekkora vonzereje pont ennek az estének? Alapból szerintem az egész halloweenes, beöltözős tematika nagyon passzol azokhoz a zenékhez amit ez a buli képvisel, nem csoda, hogy idén is veszedelmesen jó sminkekben és kosztümökben jöttek le egy csomóan, mi pedig mindent beborító szellemes-zombis-boszorkányos dekorral igyekeztünk alapozni a hangulatot. Plusz a bátrabbaknak volt most is jelmezverseny és plusz extraként egy kis alkalomhoz illő táncbemutató a conokról ismert Para Para Fake Stars csapattól.
Meg persze ott voltak a zenék is, melyek ilyenkor ugye szintén változatosabbak, mint máskor, merthogy a Kék nagyteremes pop és a kistermes JRock / vk vonal mellé a Night Of Terror csapata odaát a KVLT-ban (ami ugye a Vörös Yuk új neve, de ezt igérem most írom le utoljára) hozta az industrial szeletelést, ami most kiegészült még Kazuya NewRetroWave zenéivel is. Valamint valószínűleg az előző évek halloweenes megmozdulásainak is híre ment, szóval ez is fokozta a várakozást / kiváncsiságot, mi meg nagyon igyekeztünk, hogy hozzuk megint a színvonalat és ne okozzunk csalódást. És szerintem összejött, ahogy az alábbi masszív galériából is látszik, ami eléggé jól visszaadja az éjszaka hangulatát. Szóval innen is köszi mindenkinek aki eljött, vagy részt vett a szervezésben és így része volt abban, hogy megint sikerült egy ennyire felejthetetlen estét összehozni!
Folytatás nov 27-én az év uccsó hagyományos Nippon Groove bulijával, utána pedig szilveszter! Alább pedig a képek + tracklista a Kék nagyteremből (a kistermes tracklista szintén érkezik majd 1-2 napon belül).
>> a galéria egyben innen letölthető / full gallery download is available here <<
KÉK YUK NAGYTEREM
*Case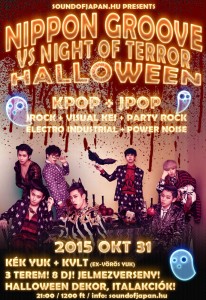 Headbangerz: Let's Ride. Get High
C.T: Ban! Ban!
DS455: Jack The Party feat. Tha DSC
Kojima Mayumi: Doo-Bee-Doo-Goo
Hazel Nuts Chocolate: Humpty Dumpty Rag
Capsule: Super Scooter Happy
Capsule: MUZiC
2NE1: I Love You (Epitone Remix Club Version)
Namie Amuro: Do Me More
Tommy february6: Runaway
MBLAQ: Y
SNSD: Hoot
UKiss: Man Man Ha Ni
Teriyaki Boyz: Zock On! feat. Pharrell & Busta Rhymes
Verbal: Black Out feat. Lil' Wayne & Namie Amuro
BTS: Cypher Pt.3 Killer feat. Supreme Boi
Shinhwa: This Love
T-Ara: Number 9
Charisma.com: Otsubone Rock
Akanishi Jin: Aphrodisiac
Rap Monster: Do You
SHINee: Lucifer
Monsta X: Rush
Jay Park: Mommae feat. Ugly Duck
T.O.P: Turn It Up
ToppDogg: Peekaboo
EXID: Ah Yeah
GOT7: If You Do
Big Bang: Sober
Namie Amuro: Neonlight Lipstick
Donghae & Eunhyuk: Can You Feel It?
Xiah Junsu: OeO feat. Giriboy
Amber: Shake That Brass feat. Taeyeon of SNSD
Seventeen: Jam Jam
AOA: Heart Attack
f(x): 4 Walls
SHINee: View
2NE1: I Am The Best
Kyary Pamyu Pamyu: Candy Candy (Remix)
Capsule: Jumper
Hello Venus: I'm Ill (Club Remix)
EXO: Call Me Baby (Korean)
BTS: Dope
J Soul Brothers: J.S.B Dream
GOT7: Just Right
NEWS: Chumu Chumu
Block B: Jackpot
Infinite: Bad
Big Bang: Bang Bang Bang
Yoji Biomehanika feat. MC Stretch: The Place For Freedom
VIVIVID: Love 2 Move (Bapjap Remix)
Orange Caramel: My Copycat
BTS: War Of Hormone
Crosfaith: Wildfire feat. Benji Webbe of Skindred
**PARA PARA**
GD&TOP: Zutter
UNIQ: EOEO
iKON: Rhythm Ta
EXO: Overdose (Korean)
2PM: Go Crazy
**JELMEZVERSENY**
VIXX: Voodoo Doll
EXO: Love Me Right (Korean)
Eel: Cherry Pie
Bobby: Go
*Ji
Donghae & Eunhyuk: Skeleton
EXID: Ah Yeah
EXO: Let Out The Beast
Masta Wu: Come Here
T-Ara: Sexy Love
Block B: H.E.R
24K: Super Fly
GD x Taeyang: Good Boy
2NE1: MTBD (CL Solo)
Monsta X: Hero
T-Ara: Lovey Dovey
Jolin Tsai: Play
4minute: Crazy
Bigflo: Obliviate
T-Ara: Little Apple feat. Chopstick Brothers
Bastarz: Conduct Zero
Seventeen: OMG
FBTA-ZZang ZZAng Man feat. Crispi Crunch
EXO: Wolf (Korean)
Crispi Crunch: Side To Side
PSY: Gangnam Style
Big Bang: Bang Bang Bang
ToppDogg: The Beat
Exid: Up & Down
JYP: Who's Your Mama feat. Jessi
Teen Top: Rocking
*Case
Jinusean: Tell Me One More Time
Jimin N J.Don: Puss
Seventeen: mansae
Hyuna: Roll Deep feat. Ilhoon of BTOB
Minho & Zico: Okey Dokey
*Ji
Jessica H.O. & Cheetah & Kangnam (M.I.B): My Type
Miyavi: Let Go (2015 ver.)
Orange Caramell: Lipstick
EXID: I Feel Good
B.A.P: Hurricane
Bigbang: Fantastic Baby
Jay Park: I Like 2 Party
Case:
VIXX LR: Ghost (Ravi Solo)
DBSK: Mirotic
SHINee: Married To The Music
VIXX: Eternity
Namie Amuro: Alive
Namie Amuro: Stranger
M.I.B: Chisa'Bounce
BTS: I Need U
24K: Hey You
Luhan: That Good Good
AOA: Like a Cat
Hello Venus: Wiggle Wiggle
After School: Flashback
A-Queen from Burlesque Tokyo: Miracle Night
G-Dragon: Coup d'etat feat. Diplo & Baauer
Girl's Day: Ring My Bell
Kyary Pamyu Pamyu: POM POM POM
2PM: Hands Up
Akanishi Jin: Hey What's Up?
Nu'est: Face
Super Junior-M: Rokkugo!
Sistar: Shake It!
Taemin: Danger
Tomohisa Yamashita: Party Don't Stop feat. DJ Dask
BTS: Boy in Luv
Verbal: Change Change feat. Nicki Minaj
GOT7: Girls Girls Girls
Miniflex: For A Lovely Bustline
Manabu Iwamura: 1920
KÉK YUK KISTEREM
*Neshi
Nano: Magenta
LC5: Loveless
Coldrain: The War Is On
Sex Machineguns: ai ko so subete
X Japan: Rusty Nail
the GazettE: Cockroach
D'espairsRay: Forbidden
Malice Mizer: Ju Te Veux
Manetrou Opera: Independent
Dir en Greay: [KR] Cube
Fear and Loathing in Las Vegas: Chase The Light
Screw: Brainstorm
Buck-Tick: muma – The Nightmare
SiM: Jack B
Gackt: Ghost
X Japan: X
*Shin
Nightmare: Dirty
Halloween Junky Orchestra: Halloween Party
One OK Rock: No Scared
Crossfaith: Omen
LM.C.: Oh My Juliet
the GazettE: Dogma
Sadie: Meteor
Dir en Grey: Obscure
D'espairsRay: Death Point
One OK Rock: Liar
Pantera: Cemetery Gates
Buck-Tick: aku no hana
Gackt: Vanilla
LM.C: Super Duper Galaxy
Fear and Loathing in Las Vegas: Let Me Hear
Coldrain: Pretty Little Liar
LIN: Silent To My Pain
Miyavi: Ahead Of The Light
Mejibray: Venoms
Girugamesh: Antlion Pit
Miyavi: The Others
SUG: Love Scream Party
D'espairsRay: Sixty Nine
Kiryu: ruru
the GazettE: Suicide Circus
D'espairsRay: Hollow
One OK Rock: Jibun Rock
the GazettE: Incubus
One OK Rock: Cry Out
OZ: Mirror
Dadaroma: Happy Halloween
Luna Sea: Rosier
T.M.Revolution: Resonance
Lycaon: Shadow
Dir en Grey: Clever Slezoid
i.Rias : Halloween Monster Party
the GazettE: Nihil
Iceman: Shining Collection
OZ: Butterfly
My First Story: Fake
*Neshi
Coldrain: Revelation
Sadie: Jealousy
Lycaon: akai ringo
D'espairsRay: Lost Scene
Royz: Lilia
The Gazette: Silly God Disco
Dir en Grey: Cage
Crossfaitch: Monolith
OZ: Detox
Yellow Fried Chickenz: The End Of The Days
Versailles: Red Carpet Day
One OK Rock: kanzen kankaku Dreamer
Linked Horizon: guren no yumiya
One OK Rock: Re:make
Yohio: We To The City
Fear and Loathing in Las Vegas: Shake Your Body
Miyavi: Horizon
Mejibray: Divergence
One OK Rock: The Way Back