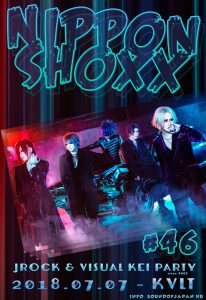 *Case
Baiser: Raguna Roku
Blast: koo no nai tsuki
Buck-Tick: nakayubi
Gill's Cadith: jisatsu gokka
Eliphas Levi: marori – fujin no hiyaka na yokubou
Pierrot: Mad Sky
Luna Sea: True Blue
Buck-Tick: M.A.D.
Merry: tamerai Shuffle
X Japan: Scars
Metronome: Gimmicks
Dir en grey: Clever Sleazoid
One OK Rock: Never Let This Go
the GazettE: Derangement
SiM: Jack.B
Yoru No Honki Dance: Where?
Crossfaith: Freedom feat. Rou Reynolds
The Gallo: yami uta
Liphlich: Hurrah Hurray
0.1g no Gosan: Dekiai Yandereboy
the GazettE: Ugly
Miyavi: Ahead Of The Light
SiM: Gunshots
*Shin
Acid Black Cherry: Incubus
Gazette: Dogma
Miyavi: Raise Me Up
Crossfaith: Omen
Gazette: Incubus
One OK Rock: No Scared
Miyavi: Horizon
T.M.Revolution: Resonance
Miyavi: Day 1
Crossfaith: Jägerbomb
Miyavi: Firebird
My First Story: Alone
Sadie: Meteor
Girugamesh: Drain
Dir en grey: Child Prey
The Oral Cigarettes: kyouran Hey Kids!!
Gazette: Red
Mejibray: Venoms
Man With A Mission: Raise Your Flag
LM.C: Ghost Heart
Yooh: Solomon
the GazettE: Falling -Ninth Mix-
Screw: Fugly
Dir en grey: Fukai
Gackt: Vanilla
*Ji
DespairsRay: Dears
Archemi.: tenjou tenge
Buck-Tick: kuchizuke
Dir en Grey: KR Cube
Tensai: Maria
Dearlanger: Incarnation Of Eroticism
hide: Dice
Buck-Tick: Babel
Mucc: rojiura boku to kimie
Dadaroma: Alice In Undergraound
Golden Bomber: Dance My Generation
Dezert: hentai
Mucc: bouzenjishitsu
Sex Machineguns: aikosubete
Grimoire: gura no shokutaku
Luna Sea: Tonight
Dimlim: The Silent Song
An Cafe: Maple Gunman
the GazettE: No. 666
Customize: Coolest
Sukekiyo: En
Glay: 1988
*Case
Miyavi vs Daichi Miura: Dancing With My Figers
Nocturnal Bloodlust: Strike In Fact
the GazettE: uragiru bero
Crossfaith: Wildfire feat. Benji Webbe from Skindred
Mamireta: shin:kurashi
The Gallo: Kerberos
Crystal Lake: True North
Dir En Grey: ningen wo kaburu
Mejibray: The End
Girugamesh: Evolution
DéspairsRay: Love Is Dead
Maximum The Hormone: zetsubou Billy
the GazettE: Filth In The Beauty
One OK Rock: Deeper Deeper
Dir En Grey: Umbrella
Buck-Tick: dokudanjo Beauty
Babymetal: Gimme Chocolate!!!
*Shin
Dir en grey: Obscure
OZ: Mirror
Dadaroma: Alice In Underground
Lycaon: Shadow
Miyavi: The others
Uverworld: D-Technolife
Dir en grey: Cage
Flow: GO!!!
*Ji
Maximum the Hormone: Chuchu Lovely…
One OK Rock: Re:Make
Arlequin: Omit
the GazettE: Cockroach
Dir en Grey: C
LMC: Oh My Juliet
Buck-Tick: Future Song
*Case
the GazettE: Inside Beast
Mejibray: Decadance – Counting Goats… If I Can't Be Yours
Dir En Grey: Mask
Malice Mizer: Beast Of Blood
Namie Amuro: Namie's Style