Nyárra mindig időzítünk egy olyan bulit, amin a strandhangulat leköltözik a Kék Yukba és mivel legközelebb más lesz a tematika (felújítás előtti búcsú a klubtól) ezért idén ez júniusra esett. Szóval a vizsgaidőszak és egyéb rémségek utáni lazításként most mindent elleptek az úszógumik, buborékfújók és egyéb vízparti csodák, meg persze az ehhez passzoló nyári hangulat a szintén ehhez passzoló nyári KPop és JPop zenével, meg egy csomó újdonsággal, melyek közt volt EXO, Jonghyun, SS301, meg persze előkerült az év JPop lemeze, az EXILE, JSB és társaik által összehozott party-alapvetés High&Low is több dal erejéig. Képek itt! Legközelebb pedig, egy kis nyárivégi szünet és a klubfelújítás előtt július 30-án találkozunk!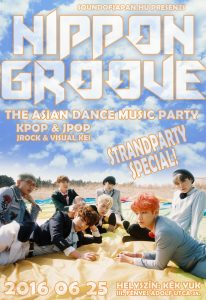 NAGYTEREM
*Case
TAAR: Sleeper Train (JIG re.mix)
Sugiurumn: Electrify My Love (Infusion remix)
Captain Funk: Piece Of You
Ajapai feat. Lisa: Goodiez
Boom Boom Satellites: Six Forty Five
Ravex feat. Namie Amuro: Rock U
Yamashita Tomohisa: Party's On
Orange Caramel: My Copycat
GOT7: Love Train
SHINee: 3 2 1
Tasty: Mamama
Teen Top: Oh! Good
T-Ara: Number 9
Akanishi Jin: Go Higher
Nu'est: Sleep Talking
Big Bang: We Like 2 Party
2PM: A.D.T.O.Y. (All Day I Think Of You)
BTS: Jump
G-Dragon: One Of A Kind
EXO: Growl (Korean)
GOT7: Girls Girls Girls
Boys Republic: Party Rock
2NE1: Crush
B.A.P: Hurricane
VIXX: Eternity
Hello Venus: I'm Ill (Club Remix)
PKCZ feat. Seungri: We Run Dis
Donghae & Eunhyuk: Can You Feel It?
2PM: Go Crazy
Amber: Shake That Brass feat. Taeyeon (SNSD)
T-Ara: Sugar Free
PKCZ feat. Crazyboy, Anarchy, Sway, Mighty Crown: Mighty Warriors
Monsta X: Trespass
Simon Dominic: Simon Dominic
Seventeen: Jam Jam
BTS: War Of Hormone
Beast: Good Luck
*Ji
BTS: Dope
Taeyang: Ringa Linga
AOA: ai wo chodai feat. Takanori Nishikawa
Bastarz: Conduct Zero
iKON: Dumb & Dumber
History: Queen
BTS: Fire
Big Bang: BangBangBang
PSY feat. CL: Daddy
Crispi Crunch: Zzang Zzang Man
Chopstick Brothers feat. T-Ara: Little Apple
Luhan: That Good Good
BGA: dong saya dae
M.I.B: Chisa'Bounce
Exile The Second: Asobo feat. Far East Movement
*Case
Akanishi Jin: Hey What's Up?
Minho, Zico: Okey Dokey
SS301: Ah-Ha
4Minute: Hate
EXO: Monster
EXID: Up & Down
Map6: Swagger Time
Taemin: Drip Drop
Rain: 30Sexy
B.A.P: Feel So Good
FAKY: Pretty
*Ji
24K: Super Fly
Cl: Hello bItches
GD x Teayang: Good Boy
Hwangtaeji: Mapsosa
BTS: Danger
JYP: Who's Your Mama feat. Jessi of Lucky J
Jolin Tsay: Play
TOP: Doom Dada
Hyuna: Red
CL: MTBD
4Minute: Crazy
Perfume: Handy Man
LOL: Girl Is Mine
Steve Aoki & Headhunterz: The Power Of Now
BTS: War Of Hormone
Jay Park feat. Ugly Duck: Mommae
DBSK: Keep Your Head Down
Orange Range: Ikenai taiyo
Kat-Tun: Keep The Faith
Tomohisa Yamashita: daite sanyorita
Block B: Nillili Mambo
FEMM: POW!
*Case
Infinite: Bad
EXO: Call Me Baby (Korean)
Hyuna: Roll Deep feat. Ilhoon of BTOB
2NE1: Falling In Love
Big Bang: Fantastic Baby
AOA: Like A Cat
EXO: Lucky One
EXID: Ah Yeah
VIXX: Dynamite
GOT7: Just Right
Orange Caramel: Catallena
Namie Amuro: Stranger
Tahiti: Skip
Beast: Beautiful Night
f(x): Hot Summer
BTS: I Need U
Super Junior: Mamacita
J Soul Brothers: Sumer Madness (PKCZ remix)
Zico: Tough Cookie feat. Don Mills
EXO: Overdose (Korean)
VIXX: Voodoo Doll
Teen Top: Supa Luv
BTS: baepsae
iKON: Rhythm Ta
Zico feat. Zion.T: Eureka
Taemin feat. Kai of EXO: Pretty Boy
BTOB: Beep Beep
VIXX: Error
SHINee: Ring Ding Dong
VIVIVID feat. Vell, Ayaka: Shiner Squad
Teen Top: Rocking
EXO: Monster (Korean)
Seventeen: Pretty U
Shinhwa: This Love
T-Ara: Sexy Love
Namie Amuro: Neonlight Lipstick
Orange Caramel: Lipstick
Jaejoong: Love You More
Block B: H.E.R
Super Junior: Mr. Simple
Blasphemy Boyz: Kush & Booty
KISTEREM
*Neshi
Yooh: Solomon
Hide: Dice
Babymetal: megitsune
Satsuki: Pray For The Sun
Mucc: fuyuu
Vivid: Take Off
Baelscope: Discharge
Royz: Noah
One OK Rock: Mighty Long Fall
Buck Tick: Iconoclasm
Royz: Joker
Crossfaith: Dance With The Enemy
Glay: yuuwaku
D'espairsRay: Love Is Dead
Luna Sea: Jesus
Spyair: Rockin Out
SuG: Love Scream Party
Crossfaith: Monolith
Nocturnal Bloodlust: Liberation
SiM: Killing Me
*Shin
Oral Cigarettes: kyoran Hey Kids!!
The Thirteen: Chainsaw
DJ Sisen: Saga
Miyavi: Raise Me Up
Nocturnal Bloodlust: Libra
Girugamesh: Dirty Story
the GazettE: Inside Beast
DéspairsRay: Sixty Nine
My Dragon: Nijigen Complex
DéspairsRay: Lizard
X Japan: X
Gackt: Journey Through The Decade
Deathgaze: Abyss
OZ: Pressed Flower
Royz: Joker
Miyavi: Day 1
Vidoll: Heroine
Screw: Gather Roses
One OK Rock: No Scared
Gackt: Ever
Miyavi: Horizon
One OK Rock: The Beginning
Yooh: Solomon
Crossfaith: Omen
Mucc: saishuu reisha
Dir en grey: Obscure
Golden Bomber: Dance My Generation
the GazettE: Incubus
Girugamesh: Drain
One OK Rock: Liar
Miyavi: The Others
My First Story: Neurose
Milky Way: Anataboshi
Daizy Stripper: hoshizora to kimi no te
Nana: Rose
An Cafe: Maple Gunman
Linked Horizon: guren no yumiya
LM.C: Oh My Juliet
Asian Kung Fu Generation: haruka kanata
Gackt: Vanilla
Golden Bomber: memeshikute
Iceman: Shining Collection
Mejibray: Decadance
OZ: Detox
Versailles: Zombie
Crossfaith: Jägerbomb
Aqua Timez: Alones
Nano: Pon Pon Pon
Alice Nine: Rainbows
Miyavi: What A Wonderful World
Nocturnal Bloodlust: Strike In Fact
Miyavi: Shelter
the GazettE: Invisible Wall
One OK Rock: Deeper Deeper
Dir en grey: Cage
*Neshi
Glay feat. Exile: Scream
Malice Mizer: Beast of Blood
Crossfaith: Madness
Mucc: Falling Down
Liphlich: Vessel
Mejibray: Arigatou Grimorie
Mejibray: Divergence
Mejibray: Silver
Girugamesh: Dirty Story
Kiryu: shukaensen
Dir en Grey: Chain Repulsion
Royz: oni to jakou
AnCafe: Ryuusei Rocket
AnCafe: Maple Gunman
Mejibray: Decadence
D'espairsRay: Death Point
Luna Sea: Rosier
Mejibray: Killing Me