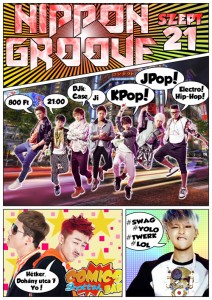 Az ősz első Nippon Groove bulijára össz-vissz három héttel a nyárzáró után került sor (mivel a következő két hét a müncheni Gazette koncert és a Mondocon miatt kiesett, mint opció), így, hogy ne legyen két kvázi ugyanolyan buli ennyire egymás hegyén-hátán, úgy döntöttünk, hogy újra visszatérünk az augusztsban már kipróbált és bevált Comics Shottail Bárba, a belvárosba. A nyári buli rekordközeli létszámát persze most bőven nem értük el, de így is elég masszív tömeg gyűlt össze (majd 250-en voltunk, szóval wow!) a képregényes dekorrol közimsert klubban, az Astóriától egy saroknyira.
Itt ugye, ellentétben a Yukkal, csak egy terem van, szóval teljes mértékben a pop / electro / hip-hop vonalé volt a főszerep, amiből az utóbbi ugyebár mostanában egyre nagyobb szerepet kap a bulikban: a nagyon underground, de elképesztően változatos és kiterjedt japán hip-hop színtérről is gyakrabban bukkannak fel zenék, nomeg KPop berkekben is egyre nagyobb szerepet kap a hip-hop az utóbbi 1-2 évben (elég csak olyanokra gondolni, mint a BTS, Jay Park… meg persze az Unbreakable, a Give It To Me, a You Got Some Nerve és társaik). Az éppen aktuális újdonságok közt most többek közt volt DBSK, Mademoiselle Yulia, G-Dragon, B.A.P, Steve Aoki… meg pár dolog, ami be volt tervezve, aztán valahogy csak kimaradt végül, szóval azokat, az időközben megjelenő még újabb zenékkel együtt majd legközelebb pótoljuk. Ez a legközelebb pedig a Halloweeb buli lesz, ami ugyanúgy három termes lesz az egybenyitott Kék és Vörös Yukban, mint az utóbbi két évben, azonban most stílusilag némiképpen megújulunk a korábbiakhoz képest. De erről és a buliról úgy általában a következő pár napban érkeznek majd a részletesebb tudnivalók!
Alább pár fotó, plusz a tracklista a többi kép pedig szokás szerint a fórumon, azon belül is itt található!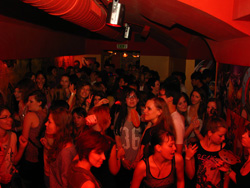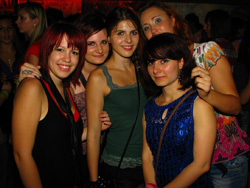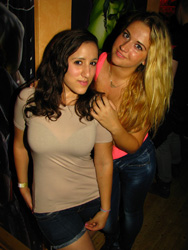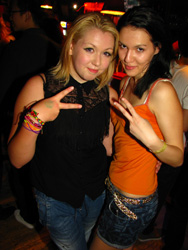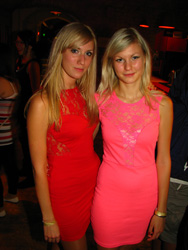 *Case
Suite Chic: We Got Time (Ajapai remix)
MYSS: Deco Boy (Strip Steve Remix)
Dexpistols: New Jack House (Galbitch "No Rap" Acidfloor Remix)
Heartsrevolution: Dance Till Dawn (Dexpistols Remix Deux)
M.S.K.: Contacti
Capsule: I Just Wanna XXX You
Mustard Pimp: Cherry (Taku Takahashi Remix)
m-flo: Love Long And Prosper (Diplo Remix)
DS455: Tha DPG WIt Tha DSC feat. Daz Dillinger
C.T.: Ban Ban
Rudebwoy Face: Rudebwoy
DJ Ken Watanabe: Hang Over ft.Young Hastle, Ys, Tokage, Raw-T
TNT: Double Dutch Darkie (Watapachi Remix)
KOHH: Junji Takada (Habanero Posse Remix)
Cycheouts Ghost: What A Jungle
DJ Technorch: Gothic Experience feat. M-Project
DJ Rush: Freaks On Hubbard (DJ Shufflemaster Remix)
Capsule: Prime Time
Namie Amuro: Heaven
Girls' Day: Expectations
Orange Caramel: Bangkok City
Kat-Tun: Connect & Go
f(x): Hot Summer
Generations: Brave It Out
G-Dragon: Coup d'etat feat. Diplo & Baauer
Rania: Just Go
The Bloody Beetroots: Warp 1.9 (Steve Aoki Remix)
Shinhwa: Venus
SS501: A Song Calling For You
EXO-K: Two Moons
DBSK: Xiahtic
Akanishi Jin: That's What She Said
Kis-My-Ft2: Shake It Up
m-flo: She's So (Outta Control)
2NE1: Scream
Namie Amuro: In The Spotlight (Tokyo)
Big Bang: Fantastic Baby
Alvaro & Mercer: Welcome To The Jungle feat. Lil Jon (Y.G.S.P. Trap remix)
G-Dragon: You Do (Outro)
EXO: Growl
YDG (Yang Dong Gun): Give It To Me feat. DOK2 & The Quiett
AKLO: New Days Move
Bigstar: Run & Run
*Ji
AAA: Eighth Wonder
Miyavi: Horizon
Lee Jung Hyun: V
UKiss: Tick Tock
Exid: Feel Good
SS501: Love Ya (G-Sweet Remix)
MIC: Single Ladies
T-Ara: Roly Poly
Jay Park: Body2Body
CL: The Baddest Female
G-Dragon: Crayon
EXO: Wolf
2NE1: Do You Love Me
2NE1: I Am The Best
Jang Woo Young: Sexy Lady
Big Bang: Tonight
Kim Sori: Dual Life
9muses: Wild
MBLAQ: Smokie Girl
T-Ara: Sexy Love
UKiss: Forbidden Love
Block B: Nillili Mambo
Steve Aoki, Chris Lake and Tujamo: Boneless
Teen Top: Rocking
2NE1: Can't Nobody
Jay Park: Hot
Team H: Liquor Shot
Big Bang: Lollipop 2
PSY: Right Now
Block.B: Freeze
Parfume: Handyman
Nu'est: Sleep Talking
Orange Caramel: Lipstick
*Case
Super Junior (Donghae & Eunhyuk): I Wanna Dance
B.A.P: Hurricane
Mademoiselle Yulia: Harajuku Wander
Chief Rokka: Chief Rokka Anthem feat. Kamkaoru
Namie Amuro: Hands On Me
SHINee: Dream Girl
Shinhwa: This Love
SM The Performance: Spectrum
Akanishi Jin: Hey What's Up
Teen Top: Miss Right
Rain: Hip Song
Kim Hyun Yoong: Unbreakable feat. Jay Park
BTS (Bngtan Boys): No More Dreams
AK-69: My Time
JungHyung, FeelDog, LE: You Got Some Nerve
B.A.P: Warrior
G-Dragon: Crooked
Arashi: Intergalactic
Kat-Tun: The D-Motion
Seungri: Gotta Talk To You (Hard Remix Version)
Crispi Crunch: Nice Shot
FAKY: Better Without You (Remy-Con Remix)
Beast: Beautiful Night
2PM: A.D.T.O.Y. (All Day I Think OF You)
Generations: Animal
Capsule: Player
Steve Aoki: Wake Up Call
Far East Movement: Like A G6
MyName: We Are The Night
Henry: 4-3-1 (I Love You)
Kara: Step
Tomohisa Yamashita: Nocturne
Namie Amuro: Alive
Namie Amuro: Wonder Woman feat. AI & Anna Tsuchiya
Namie Amuro: Want Me Want Me
Beast: Shadow
SHINee: Why So Serious?
B.A.P: Badman
The Raiders: What U Gonna Do feat. Yukali & KM-Markit
G-Dragon: Shake The World
Super Junior: Break Down
DBSK: Android
*Ji
Crossfaith: Omen
Koda Kumi. The Little Mermaid (N15H vs. HEAVE D'n'B Remix)
Rania: Up
UKiss: Neverland
Dexpistols: Saturdays vs Bird of Paradise feat. Verbal
DBSK: Mirotic
2NE1: I'm Busy
Super junior: mr. Simple
Shinee: Lucifer
f(x): Electric Shock
After School: Bang!
Orange Range: ikenai taiyo
*Case
KOHH: Junji Takada