The Japanese singer-songwriter and guitarist Haruka will be our guest in Budapest for the autumn edition of the Mondocon anime convention, so, before the concert, we asked her about her music, influences, career and many other things.
(Magyar verzió)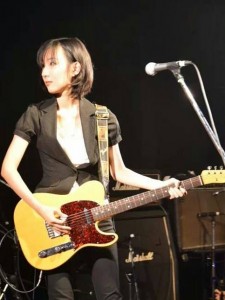 Could you please introduce yourself?
I am Haruka, a Japanese singer-songwriter and guitarist. I released two singles under a major label in 2008. After that I took a break of 5 years and in 2013, I finally came back to the music industry! My songs might sound like a rock band's, but I'm a solo artist—I write, sing and play the guitar and sometimes other instruments on my own. That's my style!
How did you get interested in music? Which were the your first favorite bands, singers and which were the ones that made you decide that you also want to make music?
I started learning the piano at the age of 4. My mom has a background in classical music and she decided to teach it to me too. So I had always been interested in music, but I never thought I would pursue my career in classical music. When I was in junior high school, I started listening to rock bands and I was really, really taken in by them! I knew that it was the kind of music I wanted to create. My first favorite band was Drug Store Cowboy, a Japanese loud rock band. Too bad they have already split up.
Where did you learn to sing and to play the guitar? And how did your career start?
I learned by myself! At the age of 15 I started listening to a Japanese band called Siam Shade and because of the guitarist, Daita, I started playing the guitar, hoping to play like him! I wrote songs and started performing. I also sent out demo to some labels and management agencies.
In 2008, you got signed to the Pony Canyon label and released two singles there. Could you tell us about this period?
Actually I had signed to the label 2 years before I released the singles. It took 2 years to finally release my first songs because of some arguments haha. Some staff thought I should sing songs that other writers wrote for me because they thought my songs were not "J-pop" enough! I didn't want to, but eventually I had to compromise on some points and I co-wrote some songs with other writers… Anyway, looking back, although it wasn't for me, I think I had a good experience. I learned so much during that period!
One of your songs from this time was also featured in the anime Blue Dragon. Do you like manga and anime? If yes, which ones are your favorites?
My favorite ones are Nana and Beck, of course! Although the world described in the anime and manga are far from the real music industry, the stories are inspiring and the characters are very attractive.
Getting ready for the concert in Hungary: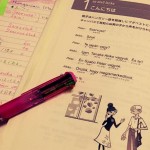 Why did you decide to take a years long break after your first two singles?
As I have mentioned, I didn't want to continue creating music with my previous label, so I decided to leave the company. I didn't think of moving to another label or management soon after that because I thought I might face the same problems! But I think it was a good idea to be completely away from the music industry for a while. Thanks to the break, I experienced normal college life for the first time: I studied, went backpacking and even did job hunting! These experiences definitely gave me new inspirations for songwriting.
Last year, you returned with a new mini-album, released on your own label. Was this mini-album different from your earlier singles? Did your style change during your off-time?
Yes, the album is quite different because I wrote the songs all by myself haha. It's the kind of music that I always wanted to make. 5 songs are included and I had written 4 of them, except the song "Yes", when I was in high school. So I can say it's an album of my dream!
In Budapest, you will play solo, but in Japan you perform with your own band. Could you tell us about the other musicians?
Usually I perform with 3 other members. A guitarist who does chorus as well, a bassist and a drummer. The guitarist is called Kyon and he's my best friend! We met in college and we really hit it off – we have quite a similar taste in music, like we both love Siam Shade. The bassist Takuya is actually very new. Both Kyon and Takuya appear in my music video Raise Your Voice. So some of you might have already seen them! The drummer I usually play with is not in the video though… He's called Shoji-san. He's really experienced, so I trust him and I often ask him for advice.
Raise Your Voice PV

You play the kind of melodic rock music that is very popular in Japan. Do you mostly listen to similar artists or do you listen to other music genres as well?
I like listening to melodic hard rock bands whose styles are similar to mine, but on the other hand I love instrumental bands too. T-Square is my favorite. Their style is quite diverse; some songs are fusion or jazz, and then they have songs that are more like funk or rock.
You also write your own lyrics. What are your themes and inspirations?
I mostly write about my own experiences. The message is all about being yourself, pursuing your dreams and not giving in to setbacks. I myself have always been encouraged by the messages conveyed by rock bands and artists, I'd like to do the same through my music.
Please tell us about your new album, Anthems, that will be released late October.
It's very powerful! I wanted to make an encouraging album because in this world we hear tons of negative news, words and ideas every day. I think that's what keeps us from living our dreams—but you must keep going anyway. You can't give in to people who criticize you or who try to bring you down. So I hope this album will be your "Anthems" you'll always listen to when you want to look up, stay focused on your goals and boost your energy. I'm with you on the way!
Your English is really great, did you learn it at school or did you live abroad and learnt it there?
Thank you! I received a bilingual education when I was quite small. But since I went to school in Japan I couldn't really speak it until I started doing homestay in Australia when I was 12. I started with short-term summer school. I also spent some months in the U.S. for studies when I was in college. That's how I learned English!
As far as I know, this will be your first time playing abroad. But have you ever been to Europe as a tourist before?
Yes, I have been to France, Belgium and the UK when I was a student, in 2011. All on one trip! It was quite fun to move from country to another by train. That's something you can't experience in Japan – we are islands haha.
And finally: do you have any spacial message for the Hungarian fans?
Thank you very, very much for this fantastic opportunity! It's an honor to perform in your country. I am also very glad to receive nice comments from you on my Facebook and Twitter. I read them all and they make me feel even closer to your country. I'm really looking forward to seeing you in Budapest!
Thank you the interview!