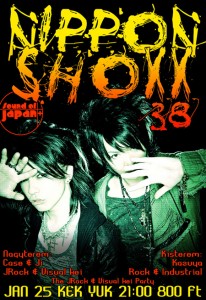 Az év első Nippon Shoxx bulija megint igencsak kis családiasra sikeredett, mint ahogy mondjuk tavaly félév környékétől kezdve majd' az összes (persze a grandiózus Halloweenes party kivételével). Ahhoz a bizonyos halloweenes estéhez hasonlóan a kisteremben most is Kazuya válogatta a zenéket nu-metal, industrial metal, meg úgy általában mindenféle egyéb rock + metal vonalról, a nagyteremben meg ugyebár a japcsi rocké volt a főszerep, a szokásos favoritok mellett olyan újdonságokkal, mint az LM.C féle Double Dragon, az új Miyavi (Ahead Of The Light) és persze az aktuális One OK Rock dal, a Deeper Deeper. Nomeg a szilveszterkor debütált Golden Bomber féle Dance My Generation, amihez most is járt a videóból ellesett koreográfia az elvakultabb GB rajongók prezentálásában, ezúttal -szilveszterrel ellentétben- már igazán autentikus formában, azaz játékpénzkötegekkel a kézben előadva.
Emellett, ahogy újabban szokássá vált, most is volt kisebb kitérő a rockosabb a koreai zenék felé (főleg, hogy a JYJ-s Jaejoong új száma, a Mine amúgy is totál JRock beütésű lett) és persze befigyelt pár számnyi pop is, meg úgy általában ment minden a maga jól megszokott medrében és a hangulat is nagyon rendben volt a kis létszám ellenére is. Folytatás február 22-én, Nippon Groove-al, ami most, ugyabár a Kashmír megszünése miatt szintén a Yukban lesz (farsangi különkiadással!), NS legközelebb pedig… no, az még alakul, de annyi biztos, hogy áprilisban ünnepli a party-széria a tizedik (!) szülinapját, szóval akkorra természetsen valami különlegességgel készülünk majd!
~a teljes képanyagot a fórumon találjtok meg!~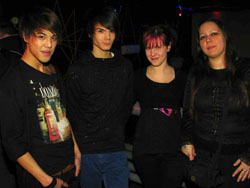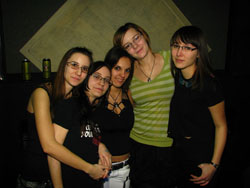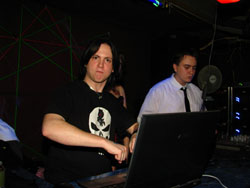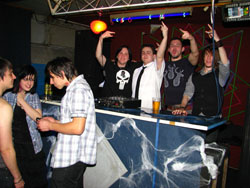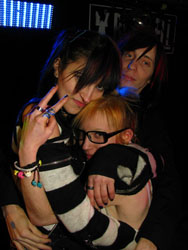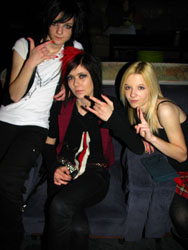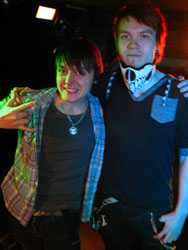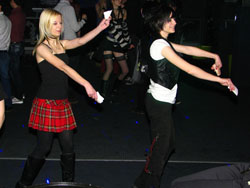 Nagyterem
* Ji
OZ: Filmy
Girugamesh: moujou no koushin
Satsuki: Pray For The Sun
DéspairsRay: In Vain
Vidoll: kichigai TV
Mucc: garo
Dir en grey: C
hide: Dice
Gackt: Ghost
12012: Shudder
TM Revolution: Resonance
Malice Mizer: Transylvania
An Cafe: Ryuusei Rocket
Gazette: Cockroach
Dir en grey: Filth
DéspairsRay: fuyuu shita risou
One OK Rock: kanzen kankaku Dreamer
Crossfaith: Omen
Halloween Junky Orchestra: Halloween Party
Hiroshi Kitadani: We Go!
* Case
One OK Rock: Deeper Deeper
Alice Nine: Mirror Ball
Nano: Just Be Friends
Matenrou Opera: nurashita kuchibiru de kisu wo shite
And: Blaze
DéspairsRay: Love Is Dead
Vamps: Trouble
Miyavi vs Yuksek: Day 1
Dir en grey: Different Sense
Buck-Tick: Elise no tame ni
ZIZ: Super Naked Disco
L'Arc~en~Ciel: Ready Steady Go
Gazette: Silly God Disco
SuG: Love Scream Party
Versailles: Zombie
An Cafe: Amazing Blue
Jaejoong: Mine
Sads: Evil
LM.C: Double Dragon
L'Arc~e~Ciel: Good Luck My Way
* Ji
Bing Bang: Fantastic Baby
T-Ara: Sexy Love
Chunja: Tonight
Orange Caramel: Lipstick
T-Ara: Roly Poly
Kaya: Marionette
LiSA: Egoistic Shooter
Dir en grey: cage
SiM: Killing Me
Dir en grey: Raison d'etre
X Japan: X
Crossfaith: Omen
One OK Rock: No Scared
DéspairsRay: Forbidden
GLAY: yuuwaku
Buck-Tick: muma -The Nightmare-
X Japan: Rusty Nail
Majibray: Divergence
Screw: Deep Six
Kiryu: kyosei
Dir en grey: Obscure
G-Dragon: Crayon
Block-B: Nillili Mambo
EXID: I Feel Good
Infinite: The Chaser
* Case
Boom Boom Satellites: Helter Skelter (Album Version)
One OK Rock: The Beginning
OZ: Stigma
Sadie: Meteor
Sads: Porno Star
Dir en grey: Machiavellism
the GazettE: Derangement
Golden Bomber: Dance My Generation
JYJ: Mission
UKiss: Tick Tack
CNBlue: In My Head
LM.C: Ah Hah!
SuG: 39Galaxyz
B1A4:: Beautiful Target
Vamps: Love Addict
Versailles: Vampire
And: Code B
Merry: Japanese Modernist
Gackt: Redemption
DBSK: Mirotic
G-Dragon: One Of A Kind
Aural Vampire: Darkwave Surfer
Super Junior: Sexy, Free & Single
the GazettE: Vermin
Lycaon: Aventure
Vamps: Devil Side
Merry: Sentimental New Pop
the GazettE: The Suicide Circus
DéspairsRay: Hollow
One OK Rock: C.h.a.o.s.m.y.t.h.
Dir en grey: hageshisa to, kono mune no naka de karamitsuita shakunetsu no yami
Royz: Innocence
An Cafe: Cherry Saku Yuuki
Girugamesh: Zecchou Bang!!
Asian Kung-Fu Generation: haruka kanata
the GazettE: ibitsu
Miyavi: Ahead Of The Light
Akanishi Jin: Aphrodisiac
Maximum The Hormone: Zetsubou Billy
Hibari Misora: yawara
Kisterem
*Kazuya
Kazuya [21:00: 04:00]
Kieth Merrow: Spice Dealer
Pantera: Walk
Full Diesel: King of Defeat
Killswitch Engage: Holy Diver
Dethklok: Briefcase Full Of Guts
Ensiferum: Into Battle
Korpiklaani: Vodka
Megadeth: Hangar 18
Korn: Here to Stay
Korn: Narcissistic Cannibal
Skrillex: Make it Bun Dem
The Prodigy: Invaders must die
Trivium: In Waves
Slipknot: Psychosocial
System of a Down: Chop Suey
Rob Zombie: Super Charger Heaven
Linkin Park: Faint
Korn: Freak on a Leash
Rammstain: Feur Frei
Disturbed: Ten Thousend Fist
Pendulum: Boold Sugar
DJ Pon3: Dishwasher
Slipknot: Before i forget
System of a Down: B.Y.O.B.
Steel Panther: Death to all but metal
Metallica: Ride the Lightning
Europe: Final Countdown
Survivor: Eye of the Tiger
Rammstein: Moskau
As I Lay Dying: Paralyzed
Korn: Another Brick in the wall
Pokemon: Főcímdal
Rammstein: Keine Lust
Dimmu Borgir: Puritania
Iron Maiden: Run to the Hills
Machinhead: Halo
Rammstein: Links 2 3 4
Nickelback: How You Remind Me
Korn: Kill Mercy Within
Skrillex: Bangarang
Skrillex: First of the Year (Equinox)
AC/DC: Thunderstruck
Rammstein: Mein Teil
Nightwish: Dark Chest of Wonders
Leander: MMXII + 8. Főbűn
Blind Myself: Bizonyos szempontból gazdagok
Billy Talent: Fallen Leaves
Motörhead: Ace of Spades
Pantera: Cowboys from hell
Serj Tankian: Lie Lie Lie
Rob Zombie: Demon Speeding
Ensiferum: Iron
Trivium: Shattering The Skies Above
Dimmu Borgir: Progenies of the Great Apocalypse
Rammstein: Amerika
Nightwish: Dead to the World
Guns 'n' Roses: Sweet Child o' Mine
Tenacious D: Beelzeboss
Steel Panther: Community Property
Alien Ant Farm: Smooth Criminal
Slipknot: Duality
Marilyn Manson: mObscane
System of a Down: Sugar
System of a Down: ATWA
Rammstein: Reise, Reise
Machinae Supramacy: Laser Speed Force
Nightwish: End of All Hope
Bassnectar: Hexes Ft.Chino
Skrillex: The Devil's Den
Korn: Get Up!
Rammstein: Engel
Marilyn Manson: This is the New Shit
Korn: Falling Away from Me
Metallica: St. Anger
Rammstein: Benzin
Ozzy: Paranoid
Slayer: Final Six
Billy Talent: Line & Sinker
Skindred: Ratrace
Marilyn Manson: Fight Song
System of a Down: Radio/Video
Pendulum: Propane Nightmares
Skrillex: Kill Everybody
Deathstars: Blitzkrieg
Killswitch Engage: My Curse
Dethklok: Awaken
Rammstein: Du Hast
Slipknot: People=Shit
Korn: Blind
Rob Zombie: Scum of the Earth
Bullet for my Valentine: Hand of Blood
Pantera: I'm Broken
Nirvana: Breed
The Rasmus: In the Shadows
Audioslave: Show me how to live
Soundgarden: Rusty Cage
Billy Talent: Nothing to lose
Foo Fighters: The Pretender
Static X: Push It
Subscribe: The Tremens
System of a Down: Old School Hollywood
The Prodigy: Spitfire
The Mask: Cuban Pete
The Mask: Hey Pachuco!