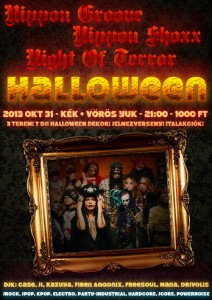 Már az előző két évben is a Halloween party volt buli szempontból az év csúcspontja, iszonyat jó hangulattal, jelmezekkel és rekordokat döntögető, 500 fő körüli tömeggel… és amikor azt hittük, hogy ezt már úgysem lehet fokozni, akkor jött a mostani Halloween, ahol majdnem 630-an (!!!) voltunk. Maga az alapfelállás egyébként az volt nagyjából, mint tavaly, azaz három teremben voltunk az egybenyitott Kék és Vörös Yukban: a Vörösben a Night Of Terror csapata (azaz: FreeSoul, Firen Aggonix, Drivolis + Mana) tolta az industrialt, most némi jcore és hardcore vonallal megtámogatva, a Kék kisteremben Kazuya & co. a bulizósabb rockzenéket nyomta (kisebb kitérőkkel) a Rammsteintől a Green Day-ig. A nagyteremben pedig persze az ázsiai zenéké volt a főszerep, annyi változással az előző évekhez képest, hogy most a Nippon Groove pop vonala is erősen jelen volt a rockos Nippon Shoxx féle zenék mellett.
Ezek mellett korábbi évekhez hasonlóan most is telepakoltuk az alkalomhoz illő dekorral a helyet, vagyis mindenhol lampionok, csontvázak, szellemek, lufik és pókhálók lógtak, de a lényeg persze nem ez volt, hanem: a jelmezek! Amiben újfent hihetetlen mód kitettek magukért a vállalkozóbb kedvűek, így mindenhol zombik, vámpírok, megelevenedett koponyák, kriptaszökevény gésák, múmiák, vérborította nővérkék és egyéb szörnyalakok rohangáltak, plusz pár kevésbé vérfagyasztó alak: kalózok, tündérek és még ki tudja mi minden. És közülük jópáran persze indultak a jelmezversenyen is, amire éjjel egykor került sor és ahol most is három helyezett volt, akiket a zsűri választott ki, plusz egy közönségdíjas, akinél az döntött, hogy a bevonulásnál mennyire volt hangos és lelkes a közönség. Utóbbi egyébként (valljuk be, nem túl meglepő módon) a kedvenc Hyde cosplayerünk lett, a különben a flyeren is szereplő Halloween Junky Orchestra-ból, akiknek a Halloween Party című csodás kis szerzeménye egyébiránt tavaly óta a mi bulinknak is kvázi himnuszaként szolgál.
Ez a bő hatszáz fős létszám egyébként már erősen feszegette a Yuk hivatalos befogadó képességét, de míg tavaly voltak némi fennakadások, főleg a ruhatárak környékén, idén ők is nagyon rákészültek a rohamra és két ruhatárral, kapuval és bárpulttal, nomeg folyamatos átszervezésekkel sikerült elkerülni a tumultust, így az a fura helyzet állt elő, hogy igazából (persze a táncteret leszámítva) kevésbé lehetett érezni a tömeget, mint egy évvel ezelőtt, annak ellenére, hogy bő százzal többen voltunk, szóval nekik is köszönet a hibátlan szervezésért! A folytatás egyrészt természetesen jövőre ugyanitt, másrészt pedig, egy szokásos, havi Nippon Groove buli keretében november 30-án (bővebb infó itt)! És akik a Nippon Shoxx bulikat hiányolják (joggal!), azoknak sem kell már sokáig várniuk, mivel jövő év elején végre az a bulisorozat is visszatér! Alább pedig tracklista + képek az estéről!
* Kék Yuk nagyterem
*CASE
Maximum The Hormone: chu chu Lovely muni muni mura mura purin purin boron nururu rero rero
LM.C: Super Duper Galaxy
Halcali: Cyborg Oretachi
Screw: The Abyss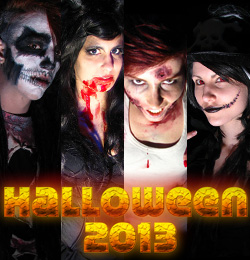 G-Dragon: One Of A Kind
CL: The Baddest Female
Watapachi: Stuntin'
Shinhwa: This Love
Jang Woo Young: Sexy Lady
Jungukgu: Fashion City
Namie Amuro: Hands On Me
the GazettE: The Suicide Circus
DéspairsRay: Love Is Dead
Lycaon: Aventure
Golden Bomber: memeshikute
Sadie: This Is Halloween
Block.B: Very Good
Super Junior-M: Break Down
Steve Aoki, Chris Lake & Tujamo: Boneless
Capsule: I Just Wanna xxx You
T-Ara: Number 9
Bigstar: Run & Run
Teen Top: Rocking
Crossfaith: Monolith
Buck-Tick: Galaxy
Vamps: Devil Side
One OK Rock: The Beginning
the GazettE: The Stupid Tiny Insect
Kim Hyun Joong: Unbreakable feat. Jay Park
Verbal: Change Change feat. Nicki Minaj
Tiny-G: Miss You
Tomohisa Yamashita: Nocturne
Seungri: Gotta Talk To You (Hard Remix Version)
Akanishi Jin: Hey What's Up?
Girls' Day: Expectation
Kis-My-Ft2: Shake It Up
*Ji
Miyavi: Horizon
One Ok Rock: No Scared
Dir en grey: Obscure
FTIsland: Try Again
Big Bang: Fantastic Baby
UKiss: She's Mine
T-Ara: Roly Poly
Steve Aoki & Laidback Luke feat. Lil Jon: Turbulence
Akanishi Jin: Test Drive (7th Heaven Mix)
Nu'est: Sleeptalking
SS501-Love Ya (G Sweet remix)
EXO: Wolf (Korean)
Super Junior: Gulliver
*CASE
the GazettE: Inside Beast
Maximum The Hormone: What's Up People!!
SiM: Who's Next
Crossfaith: The Omen
T.O.P: Turn It Up
** JELMEZVERSENY **
2NE1: Falling In Love
Koda Kumi: Touch Down
G-Dragon: Coup d'etat feat. Diplo & Baauer
EXO: Growl (Korean)
SNSD: Oh!
TNT-Double Dutch Darkie (Watapachi Remix)
B.A.P: Hurricane
Kat-Tun: Star Rider
*JI
Orange Caramel: Lipstick
UKiss: Forbidden Love
Vaniru: Cosmic Night
G-Dragon: Crayon
T-Ara: Sexy Love
Exo-K: History
Kim Sori: Dual Life
MBLAQ: Mona Lisa
Shinee: Ring Ding Dong
vixx: hyde
2NE1: I'm The Best
2PM: Hands Up
DéspairsRay: Forbidden
Halloween Junky Orchestra: Halloween Party
hide: Dice
SiM: Killing Me
One OK Rock: kanzen kankaku Dreamer
G-Dragon: Michi GO
Crispi Crunch: sajangnim Nice Shot
PSY: Gentelman
Block.B: Nillili Mambo
*CASE
Akanishi Jin: Bass Go Boom
*Ji:
PSY: Gangnam Style
Beast: Shock
NEWS: sayaendo
Jay Park: Wasted
After School: Bang!
2NE1: Scream
Topp Dogg: Say It
GD&TOP: High High
Mucc: waga arubeki basho
LEDApple: Time's Up
*Case
Mejibray: gesshoku
the GazettE: Fadeless
Born: Devilish Of The Punk
Vamps: Trouble
SuG: Pastel Horror Yum Yum Show
Versailles: Zombie
Lycaon: Psychedelic Jelly
After School: Rambling Girls
MyName: We Are The Night
Namie Amuro: In The Sppotlight (Tokyo)
Namie Amuro: Neonlight Lipstick
Donghae & Eunhyuk (Super Junior): I Wanna Dance
BTS (Bangtan Boys): N.O.
YDG (Yang Dong Gun): Give It To Me feat. Dok2 & The Quiett
AKLO: Heat Over Here (Remix) feat. Norikiyo, Salu, Y'S, Simon & Young Hastle
EXO-K: Mama
Rip Slyme: Super Shooter
Teen Top: Miss Right
B.A.P: Warrior
Kat-Tun: Flash (Jonnosuke Taguchi)
Steve Aoki: Wake Up Call
Block.B: Very Good
Tonosama Kings: namida no misao
* Kék Yuk kisterem
Manowar: Let the Gods Decide
Disturbed: Decadence
Machine Head: Imperium
Full Diesel: K.I.A
Korn : Narcissistic Cannibal
Pantera: Walk
Necrogoblikon: The Bog
Necrogoblikon: A Feast
Megadeth: Back in the Day
Judas Priest: Painkiller
HammerFall: Hero's Return
System of a Down: Holy Mountains
Korn: Here to stay
Slipknot: Duality
Marilyn Manson: mOBSCENE
Rob Zmobie: Scum of the Earth
Necrogoblikon: No One Survives
Korn: Falling away from me
System of a Down: Kill rock n roll
Rammstein: Mein Hertz Brennt
Slayer: Final Six
Doctor P: Flying Spagetti Monster
Datsik & Excision: Vindicate
Nirvana: Smells like teen spirit
Rammstein: Benzin
Papa Roach: Last Resort
Foo Fighters: The Pretender
Linkin Park: Somewhere i belong
Slipknot: Before I forget
Korn: Did my time
Avenged Sevenfold: Bat Country
The Killers: Mr. Brightside
Korn: World up
Bullet for my Valentine: Tears Don't Fall
Linkin Park: Points of authority
Elvis vs JXL: A little less Conversation
Rammstein: Seemann
Linkin park: In The End
Green Day: Boulevard of broken dreams
Evanescence: Bring Me To Life
The Rasmus: In the Shadows
Three Days Grace: Pain
Fall Out Boy: My Songs Know What You Did In The Dark
Metallica: Fuel
System of a Down: Chop Suey
The Prodigy: Omen
Skrillex: Bug Hunt (Noisia Remix)
Marilyn Manson: Fight Song
Disturbed: Down with the Sickness
Avenged Sevenfold: Afterlife
Dir en Grey: Obscure
The Agonist: Everybody wants you (dead)
Celldweller: Own Little world
Scar Symmetry: Hybrid Cult
Disturbed: The Asylum
Girugamesh: Shining
Billy Talent: Fallen Leaves
Muse: Supermassive Black Hole
Fear and Loathing in Las Vegas: Scream Hard as You Can
Drowing pool: Bodies
Pantera: Cowboys from hell
Disturbed: Land of Confusion
Rammstein: Du Hast
Rammstein: Ich Will
Steel Panter: Death To All But Metal
System of a Down: Sugar
Tommy Heavenly6: Lollipop Candy BAD Girl
Bring me the Horizon: It never Ends
Atreyu: You Give Love A Bad Name
Linkin Park: Faint
Papa Roach: To Be Loved
Maximum the Hormone: Zetsubou Billy
Dir en Grey: Cage
The Prodigy: Invaders Must Die
Pendulum: Prodigy Voodoo People
The Fray: love dont lie
Maximum the Hormone: Koi no megalover
Marilyn Manson: This is the new shit
System of a Down: ATWA
Powerman 5000: Boomshell
Dir en Grey: Different Sense
Slayer: Raining Blood
AK48: Sugar Rush
One ok Rock: Liar
One ok Rock: Re:make
Dir en Grey: Sokubeni
Hammerfall: Hearts on fire
Pearl Jam: Even Flow
Muse: New Born
Pearl Jam: Alive
Linkin Park: Crawling
Three Days Grace: Riot
Gackt: Redemption
Flow: Go!!!
Marilyn Manson: Disposible Teens
Billy Talent: Viking Death March
Three Days Grace: I Hate Everything About You
Blink 182: All The Small Things
Billy Talent: Man Alive
Foo Fighters: Learn to Fly
The Hives: Hate to Say I Told You so
The Outline: Shotgun
Audioslave: Show me how to live
Billy Idol: White Wedding
AC/DC: Thunderstruck
Blur: Song2
Linkin Park: Breaking the Habbit
Korn: Freak on a Leash
Depeche Mode: Personal Jesus
Depeche Mode: Enjoy the Silece
Survivor: Eye of a Tiger
Micheal Jackson: Thriller
Marilyn Manson: This is Halloween
Slipknot: Wait and Bleed
Sum 41: Fat lip
Pantera: Hollow
OLDCODEX: Rage On!
Nippon Groove x Nippon Shoxx x Night Of Terror Halloween
A teljes (több és jobb minőségű) képadagért klikk ide!
For the full set of pictures (more and in higher quality) click here!