A nyárzáró Nippon Groove-ra megint rengeteg új zene gyűlt össze (többek közt Team H, Kemy, FEMM, BTS, Donghae & Eunhyuk, Yamashita Tomohisa, Red Velvet, Taemin és Super Junior), nomeg, habár a rekorder júliusi, Mondocon afteres bulit persze nem közelítettük meg, újfent nagyon sokan voltunk és a folyamatos rosszidő után erre a hétvégére még a meleg és napsütés is visszatért végre, így tényleg minden adott volt, ahhoz, hogy stílusosan zárjuk le az idei nyarat. Persze ez a zárás csak amolyan jelképes volt, merthogy ősszel is folytatódnak tovább a bulik zavartalanul és míg a legutóbbi és ez közt a szokásosnál kicsit hosszabb volt a kihagyás, a következő NG nagyon közel került az augusztusihoz (a finoman szólva is sűrű őszi programok miatt), így arra egy kis extrát agyaltunk ki: az a party inkább a régi kedvencekre lesz majd kihegyezve, a 2-3 évvel ezelőtti JPop / KPop klasszikussal a főszerepben… melyek mellé azért persze majd az újdonságok is befigyelnek, de most kivételesen nem azokon lesz a hangsúly. Bővebb infó az eseménynaptárban! De ezek mellett is szolgál majd mégegy meglepetéssel a buli, azt azonban majd csak az utolsó napokban jelentjük be…! Addig is, képek itt (<-pictures!) aláb pedig a tracklista.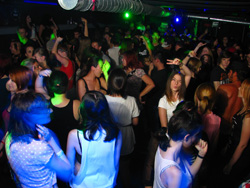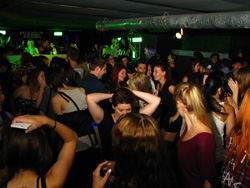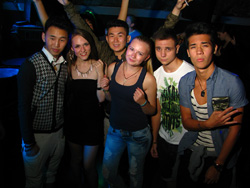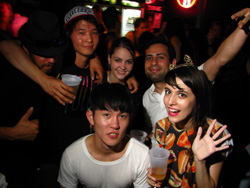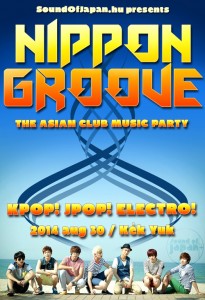 *Case
Gore-Tex: Pyramid
Zeebra: Platinum Date feat. Double
Mikris: Scream
S-Word: One Time feat. Double
DS455: Still Belong In Tha Street (Ah Yeeah)
Blasphemy Boyz: Kush & Booty
C-T: Get Money, Power & Respect
EXO-K: Mama
f(x): Choco Love
UKiss: Coincidence
Rain: Rainism
T-Ara: Lovey Dovey
Akanishi Jin: Aphrodisiac
Daichi Miura: Right Now
Iconiq: Make It Right
Donghae & Eunhyuk: I Wanna Dance
Namie Amuro: Poison
GI: Beatles
ToppDogg: Arairo
BTS: No More Dream
Teen Top: Mr. Bang feat. Maboos, Chakun
B.A.P: Warrior
Hiromi: Oh Oh
M.I.B: Chisa' Bounce
Tiny G: Miss You
Miss A: Hush (Party Version)
Shinhwa: This Love
Ayumi Hamasaki: Feel The Love (DJ Hello Kitty Remix)
T-Ara: Number 9
Namie Amuro: In The Spotlight (Tokyo)
Scarlet: Hip Song
Crayon Pop: Bar Bar Bar 2.0
Orange Caramel: My Copycat
Yamashita Tomohisa: Back To The Dance Floor
Team H: Raining On The Dancefloor
Taemin: Danger
Koda Kumi: LOL
Donghae & Eunhyuk: Skeleton
Winner: I'm Him (Mino Solo)
AK-69: Swag In A Bag
Block.B: H.E.R
DJ Smooch: Scorpion Daddy (KNOXX Remix)
BTS: Boy In Luv
Akanishi Jin: Hey What's Up?
*Ji
Kim Sori: Dual Life
4minute: What' Your Name?
JYJ: Mission
Top: Doom Dada
Steve Aoki feat. Machine Gun Kelly: Free the Madness
VIXX: Eternity
BAP: Hurrican
Got7: Girls Girls Girls
Crossfaith: Omen
Kiss My Ft2: Shake It Up
UKiss: Tick Tock
Block B: Very Good
Donghae & Eunhyuk: Motorcycle
Big Bang: Tonight
2NE1: Im the Best
Block.B: Nililli Mambo
Jay Park: Metronome
Orange Range: ikenai taiyo
Miyavi: Horizon
One OK Rock: kanzen kankaku Dreamer
Big Bang: Fantastic Baby
Steve Aoki & Chris Lake & Tujamo: Boneless
Crayon Pop: PitaPat
C-Clown: It's Love
G-Dragon: Crayon
f(x): Pretty Girl
Dexpistols: Saturdays vs Bird of Paradise feat. Verbal
Teen Top: Rocking
Beast: Good Luck
FEMM: Fxxk Boys Get Money
Nu'est: Face
2NE1: Clap Your Hands
Crispi Crunch: Thumbs Up
T-Ara: Roly Poly
BTS: Hip Hop Lover
Super Junior: Mamacita
EXID: Up &Down
DJ Doc: I'm A Guy Like This
PSY: Gangnam Style
Case
f(x): Nu ABO
Henry: Fantastic
EXO: Grown (Korean)
BTS: Danger
Koda Kumi: Show Me Your Holla
Block.B: Jackpot
Mademoiselle Yulia: Harajuku Wander
Ayumi Hamasaki: XOXO
Orange Caramel: Catallana
Infinite: Destiny
VIXX: Voodoo Doll
B.A.P: One Shot
Hyuna: Red
TNT: Double Dutch Darkie (Watapachi Remix)
Taemin: Pretty Boy feat. Kai of EXO
ToppDogg: Follow Me (Say It)
Red Velvet: Happiness
Kat-Tun: Star Rider
f(x): Red Light
Namie Amuro: Neonlight Lipstick
FTIsland: Hello Hello
2NE1: MTBD (CL Solo)
Kemy: I'll Fly
BTS: Jump
Kim Hyun Joong: Unbreakable feat. Jay Park
Bigstar: Run & Run
FEMM: Wannabe
VIVIVID: Age Of Fun (Bapjap Remix)
Yamashita Tomohisa: Let It Go
Rain: LA Song
*Ji
Bigflo – Delilah
Orange Caramel: Lipstick
UKiss: She Is Mine
Shinee: Dangerous (Medusa)
ToppDogg: Say It
Boyfriend: I Yah
EXO: Let Out The Beast
Shinee: Evil
SS501: Love Ya (G Sweet Remix)
Taeyang: Ringa Linga
MBLAQ: Mona Lisa
One OK Rock: No Scared
LedApple: Time's Up
After School: Rip Off
Super Junior: Tuxedo
Im Chang Jung: Open the Door
*Case
DBSK: Catch Me
Beast: Adrenaline
SM The Performance: Spectrum
EXO-K: Overdose
DJ Beert & Flammable: G's Up feat. Prince Jo$e & Blasphemy Boys