A Nippon Groove ugyebár kb. mindig a hó utolsó hétvégéjére esik, márciusban azonban kicsit eltértünk ettől, ugyanis az uccsó hétvégét most a Mondocon uralta. Ezen a bulin elsősorban a hip-hop-é, vagy legalábbis hip-hop beütésű zenéké volt a főszerep, nyitásnak a japán underground legjavába ugrottunk egy fejest, később pedig jött Jay Park meg a többiek… de azért természetesen előkerültek a szokásos egyéb kedvencek is. Ahogy az ilyen, zeneileg kicsit speciálisabb tematikájú buliknál lenni szokott, egy picivel kevesebben voltunk, mint máskor, de majd legközelebb (ápr 29!) pótlunk! Addig viszont lesz még egy plusz party is, ugyanis így, az időpont előbbre csúszása miatt az április végi NG és a márciusi közé becsúsztathattunk (végre!) egy full JRock / visual kei Nippon Shoxx bulit is (részletek itt). Szóval áprilisban dupmázás, addig pár kép a buliról, plusz a tracklista:
>> képek / pictures <<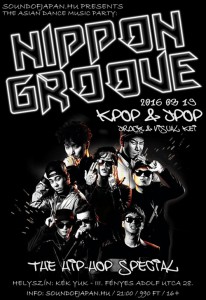 *Case
Tokona-X: I Just Wanna… feat. Sygnal
Norikiyo: gesukai kaisai no oshirase
Foxxi MisQ: Luxury Ride feat. Zeebra
AKLO: Heat Over Here (Remix) feat. Norikiyo, Salu, Y's, Simon & Young Hastle
DJ Ken Watanabe: Hang Over feat. Young Hastle, Y's, Tosaken, Raw-T
DJ Honda: D.R.E.A.M. feat. Sean Price
Lady Cat: asobusonomama feat. Kowichi
D.O.I.: Equis.ex.x Pt.2 feat. M.O.S.A.D.
Dabo: suppaabakkushan feat. AI
Rain: Hip Song
BTS: The Rise Of Bangtan
Super Junior: Boom Boom
Myname: Summer Party
After School: Bang!
Amber: Shake That Brass feat. Taeyeon (SNSD)
f(x): 4 Walls
Nine Muses: Glue
Rap Monster: Do You
Donghae & Eunhyuk: Let It Go
B.A.P: Hurricane
Koda Kumi: Show Me Your Holla
G-Dragon: Crooked
T-Ara: Number 9
Seungri: Gotta Talk To U (Hard Remix Version)
Block B: Jackpot
Twice: Like Ooh-Ahh
BTS: Second Grade
Jimin & Iron: Puss
Henry: Fantastic
Madtown: Yolo
C-Clown: Let's Love
CL: MTBD
Loco: Thinking About You feat. Jay Park
Jay Park: Appetizer
Hello Venus: Wiggle Wiggle
Doberman Infinity: Jump Around Infinity
SHINee: Married To The Music
Seventeen: Jam Jam
T-Ara: Sugar Free
SHINee: Dream Girl
Myname: We Are The Night
Ken The 390: Bangin'
Bastarz: Conduct Zero
BTS: Dope
Masta Wu: Come Here feat. Dok2 & Bobby
Monsta X: Trespass
GOT7: Just Right
Hello Venus: I'm Ill
Zico: Veni Vidi Vici feat. DJ Wegun
Kim Hyn Joong: Unbreakable feat. Jay Park
FEMM: POW!
B.A.P: Young, Wild & Free
Beast: Guess WHo?
*Ji
CL: Hello Bitches
BTS: Ma City
Jay Park: Wasted feat. Bizzy
PSY: Hangover feat. Snoop Dogg
GD x Taeyang: Good Boy
Monsta X: Hero
Big Bang: Bang Bang Bang
4minute: Crazy
iKON: Dumb & Dumber
Taeyang: Ringa Linga
Crispi Crunch: Thumbs Up
Unpretty Rapstarz: Buchubuchu
Jay Park: When feat. Tablo
BTS: Dope
AK-69: Rolls-Royce, Diamonds, Bixxhes
Jessi: sseunni
T-Ara: Roly Poly
PSY: Daddy feat. CL
Big Bang: Fantastic Baby
Taemin: Sexuality
2PM: Hands up
Hwangteji: Mapsosa
Koda Kumi: Boom Boom Boys
BTS: Boy In Luv
Block B: H.E.R
EXO: Wolf
Hyuna: Red
T-Ara feat. Chopstick Brothers: Little Apple
PSY: Napal Baji
Jay Park: Mommae feat. Ugly Duck
24k: Super Fly
JYP: Who's Your Mama feat. Jessi of Lucky J
Girl's Day: Ring My Bell
EXiD: Ah Yeah
4minute: Hate
Block B: Nillili Mambo
G-Dragon: Crayon
KNK: Knock
Crispi Crunch: Zzang Zzang Man
SHINee: Picasso
Turbo: Again
2NE1: I Am The Best
M.I.B: Chisa'Bounce
*Case
Young Dais: Free Fall
Kis-My-Ft2: Shake It Up
Namie Amuro: Stranger
VIXX: Voodoo Doll
Taemin: Drip Drop
Orange Caramel: My Copycat
Song Min Ho & Zico: Okey Dokey
YDG (Yang Dog Gun): Give It To Me feat. Dok2 & The Quiett
GD&TOP: Zutter
Zico: Eureka feat. Zion.T
Yezi: Cider
FEMM: Fxxk Boys Get Money
iKON: Rhythm Ta
BTS: baepsae
Luhan: That Good Good
Jay Park: BO$$ feat. Yultron, Loco & Ugly Duck
EXiD: Up & Down
EXO: Call Me Baby (Korean)
JJ Project: Bounce
2NE1: Falling In Love
Bobby: Bounce
Infinite: Bad
AK-69: Oh Lord feat. Fabulous
2PM: Go Crazy
Teriyaki Boyz: Tokyo Drift
Purfles: 1.2.3
Big Bang: Tonight
Beast: Good Luck
BTS: War Of Hormone
Hyuna: Roll Deep feat. Ilhoon of BTOB
Taemin: Press Your Number
Red Velvet: Happiness
S-Word: World Summit
Super Junior: Mamacita
VIXX: Chained Up
T.O.P: Doom Dada
Sistar: Shake It
Rain: LA Song
SHINee: View
Big Bang: Sober
Teen Top: Rocking
Donghae & Eunhyuk: Can You Feel It?
T-Ara: Sexy Love
Big Bang: Bang Bang Bang
dIZZy: Fucked Up (Lisachris Remix)