A júliusi duplázás után augusztusban tartottunk egy kis pihenőt, az őszt viszont már szeptember első hétvégéjén elkezdtük és ötödikén tartottuk a szezonnyitó bulinkat. A JRock kisteremre megint megkaptuk a KVLT (ex-Vörös) részt, ahol Neshi mellett újra Shin volt a pultok mögött és így hirtelen nem is emlékszem mikor volt utoljára olyan party, ahol ennyire pörgött volna a rock részleg! De odaát a Kékben is nagyon jó volt a hangulat, rég voltunk ilyen sokan, persze lehet ez amiatt is volt így, mert a tanév kezdete előtt akart még mindenki uhrabugrálni egyet a kedvenc zenéire… amik közé most is bekerült pár olyan új instant-klasszikus party-kedvenc, mint a Roll Deep vagy a Zutter, melyek mostantól jó ideig alapdarabok maradnak.
És, hogy mi lesz a folytatás? Két speckó buli! Először szeptember végén (szept 26) egy kicsit a múltba révedünk a Nippon Groove Classics keretein belül, ahol (persze azért az aktuális dolgok mellett) a néhány évvel ezelőtti közkedvencek lesznek inkább előtérben. Utána pedig Halloween, okt 31, szombaton, ami az utóbbi pár évben mindig "év bulija" kategóriás esemény volt, reméljük most se lesz másképpen, mi mindenesetre nagyon rajta vagyunk, hogy újra valami felejthetetlent hozzunk össze!
Képeket itt találjátok >> click! << Click for the pictures!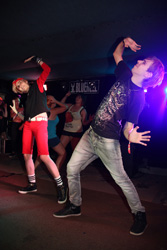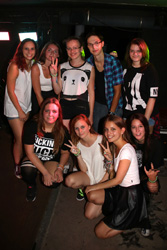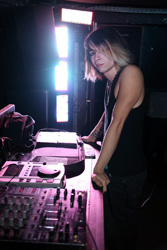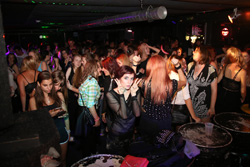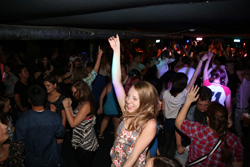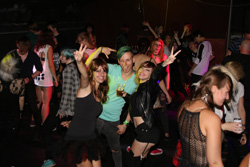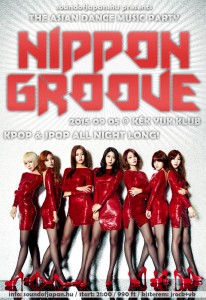 NAGYTEREM
*Case
MonyHorse, Junkman, PETZ: Paranoia
Bobby Shmurda: Hot Nigga (Watapachi Remix)
Dizzy, kzm & Junkman: Ice Cold City
diZZy: BMW feat. kZm (Watapachi remix)
Watapachi: LCX
Lisachris: Line Club
B.I: Be I
ToppDogg: Peek-A-Boo
Vasco: Giddy Up feat. Genius, Nochang, C Jamm
Super Junior: Sexy, Free & Single
B.A.P: Power
DBSK: Android
UKiss: Doradora
Infinte: BTD (Before The Dawn)
Xian Junsu: Breath
G-Dragon: One Of A Kind
Block B: Nillili Mambo
EXO-K: Two Moons
24K: Hey You
Nu'est: Face
Akanishi Jin: Test Drive (7th Heaven Mix)
Shinhwa: Venus
Rain: LA Song
Namie Amuro: Hands On Me
Teen Top: Get Crazy
2NE1 & Will.I.Am: Take The World On
T-Ara: Sexy Love
G-Dragon: Crooked (Ferry Remix)
SHINee: Lucifer
m-flo: Perfect Place (Booty Bronx remix)
M.I.B: Chisa'Bounce
Orange Caramel: My Copycat
Ayumi Hamasaki: Feel The Love (DJ Hello Kitty remix)
VIXX: Voodoo Doll
Big Bang:: Sober
Taemin: Danger
Super Junior: Devil
Hyuna: Roll Deep feat. Ilhoon of BTOB
Monsta X: Trespass
GD&T.O.P: Zutter
BTS: Dope
Yooh: Solomon
*Ji
FBTA feat. Crispi Crunch: ZZang ZZAng Man
Yoonmirae, Tiger, JK, Bizzy (MFBTY): Bang Diggy Bang Bang
Hello Venus: I'm Ill
G-Dragon x Taeyanf: Good Boy
EXO: Overdose (Korean)
Block B: H.E.R
SHINee: Evil
Block B: Very Good
T-Ara: Sugar Free (BigRoom ver.)
Team H: I Just Wanna Have Fun
J.Y. Park: Who's Your Mama? feat. Jessi
Steve Aoki, Diplo & Deorro feat. Steve Bays: Freak
Dexpistols: Saturdays vs Bird Of Paradise
Miyavi: Horizon
T-Ara: Little Apple feat. Chopstick Brothers
DJ Doc: One Night
Bastarz: Conduct Zero
Big Bang: Bang Bang Bang
C-Clown: Let's Love
2NE1: I Am The Best
EXID: Up & Down
*Case
Hwangtaeji (Kwanghee, Taeyang, G-Dragon): Mapsosa
EXO: Call Me Baby (Korean)
AOA: Heart Attack
SHINee: View
J Soul Brothers: Summer Madness -PKCZ Remix-
T-Ara: So Crazy
Teen Top: Supa Luv
*Ji
GOT7: Love Train
Teen Top: Rocking
VIXX: Eternity
Big Bang: Bae Bae
BTS: Boy In Luv
Cho PD: My Friend
T-Ara: Lovey Dovey
Charisma.com: mamemame Boy gasatsu Girl.
*Case
DBSK: Mirotic
Hello Venus: Wiggle Wiggle
CL: MTBD
Henry: Fantastic
BTS: War Of Hormone
Hyuna: Roll Deep feat. Ilhoon of BTOB
GOT7: Just Right
Boys Republic: The Real One
SHINee: Picasso
Steve Aoki, Chris Lake & Tujamo: Boneless
2PM: Go Crazy
Capsule: Dancing Boy
Teriyaki Boys: Tokyo Drift (Marc Van Quest & BMB Brother's Mix)
The Lowbrows: Stay Faceless
FEMM: Wannabe
Block B: Very Good (DJ Ferry Remix)
T-Ara: Number 9
Jay Park: Mommae feat. Ugly Duck
Taeyang: Ringa Linga
UNIQ: EOEO
Yamashita Tomohisa: Party Don't Stop feat. DJ Dask
Akanishi Jin-Hey What's Up?
Donghae & Eunhyuk: Can You Feel It?
f(x): Red Light
SHINee: Sherlock
Beast: Good Luck
Girl's Day: Ring My Bell
Big Bang: Tonight
Generations. Revolver
Taemin feat. Kai of EXO: Pretty Boy
Song Min Ho (Winner), Zico (Block B)-Okey Dokey
BTS: I Need U
Amber: Shake That Brass feat. Taeyeon
Sistar: Shake It!
EXO: Growl (Korean)
Infinite: Bad
Winner: I'm Him (Minho Solo)
EXID: Ah Yeah
2PM: Hands Up
Ko Matsushima, Booty Bronx: Key Girl
G-Dragon: Coup d'etat feat. Diplo & Baauer
Big Bang: Bang Bang Bang
Orange Caramel: Catallena
Kara: Mamma Mia
GOT7: Girls Girls Girls
T.O.P: Doom Dada
Donghae & Eunhyuk: Motorcycle
MonyHorse, Junkman, PETZ: Paranoia
KISTEREM
*Neshi 21:00-23:00
D'espairsRay: Forbidden
Hide: Dive
Buck Tick: -muma- The Nightmare
Matenrou Opera: Independent
Miyavi: To Be Wiz U
Matenrou Opera: Camel
Girugamesh: Break Down
Versailles: Ascendead Master
X Japan: Rusty Nail
Crossfaith: Monolith
D'espairsRay: Lost Scene
Born: Spiral Lie
Sex Machineguns: Illusion city
Vamps: Evil
L.MC.: Game of Life
Nocturnal Bloodlust: Puppet Creature
Shin 23:00: 03:00
Coldrain: No Escape
Matenrou Opera: Alkaloid Showcase
the GazettE: Dogma
One Ok Rock: Cry out
Crossfaith: Omen
One OK Rock: No Scared
My First Story: Neurose
Dir en Grey: Cage
Lycaon: baka ne
Kyary Pamyu Pamyu: Pon Pon Pon
One OK Rock: Jibun Rock
the GazettE: Vermin
Fear and Loathing in Las Vegas: Let Me Hear
A Crowd of Rebellion: Satelliter
T.M. Revolution: Resonance
Anna Tsuchiya: Rose
Dir en Grey: Different Sense
Gackt: Vanilla
Deathgaze: Abyss
Miyavi: Day 1
Mejibray: Venoms
One OK Rock: Liar
Girugamesh: Break Down
the GazettE: Suicide Circus
LM.C: Bell The Cat
Flow: GO!!!
Iceman: Shining Collection
Guild: The World
Yousei Teikoku: Kuusou Mesorogiwi
Aqua Timez: Alones
OZ: Mirror
One OK Rock: Re:Make
Girugamesh: Antlion pit
OZ: Pressed Flower
D'espairs Ray: Hollow
One OK Rock: The Beginning
Miyavi: Ahead Of The Light
One Ok Rock: Deeper Deeper
Coldrain: Die Tomorrow
the GazettE: Cockroach
One Ok Rock: kanzen kanakaku Dreamer
Miyavi: Shelter
the GazettE: Cassis
One OK Rock: Nothing left
the GazettE: Attitude
Fade: One Reaseon
OZ: Butterfly
Sadie: kagerou
Malice Mizer: Beast of Blood
Mucc: Falling Down
Tommy Heavenly: I'm Your Devil
Coldrain: Falling Forever
Miyavi: What a Wonderful World
Crossfaith: Jägerbomb
Sadie: Rosario
Gackt: Ghost
the GazettE: Deux
*Neshi 03:00-05:00
R-shitei: Rocket Dive
Linked horizon: guren no yumiya
nano: Magenta
Flow: GO!!!
the Gazette: Dogma
TM Revolution: Resonance
Golden Bomber: Dance My Generation
Gackt: Vanilla
X Japan: Drain
Gackt: Ghost
Dir en Grey: Mask
SID: V.I.P.
Dir en Grey: The Final
CindyKate: Night city Coy
Glay: Verb
Cinema Staff: Great Escape
An Cafe: Ryuusei Rocket
hide: Misery
DaizyStripper: uso to kagerou
Aural Vampire: Freeeeze!
Girugamesh: Dirty Blue Blood