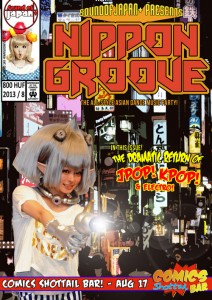 Augusztus közepén egy több szempontból is rendhagyó bulit tartottunk, ami egyrészt azért volt különleges, mert a MAT féle, 10. évfordulós Animecon után volt, amolyan afterparty-ként (jó, persze pont egy hónappal korábban is volt egy kvázi con-afterünk), másrészt pedig azért, mert nem a jól megszokott helyen, azaz a Kék Yukban voltunk. A Yuk ugyebár a nyár második felében mindig nyáriszünetel, így volt apropónk kipróbálni egy helyet, amit már egy ideje kinéztünk: az Astoriától pár percnyire levő Comics Shottail Bar nevű klubot, ami elsősorban inkább mint beülős, italozgatós hely van benne a köztudatban és ahol képregényes, szuperhősös dekor várja a letévedőket. Pedig van külön DJ pult és tánctér is, szóval teljesen jó bulikra is, igaz kisebb, mint a Yuk: itt nagyjából 250+ emberrel lehet elférni úgy igazán kényelmesen és az előzetes visszajelzések alapján arra tippeltünk, hogy kb. ennyien is leszünk… aztán a vége majdnem százzal több (!) lett, szóval huhh! Elfértünk így is, de azért a csúcsidőben, azaz éjfél körül volt tömeg rendesen, kb. mint a Kashmíros idők legtömötteb buliin. Csak hát itt a klub összehasonlíthatatlanul kultúráltabb, mint a Kashmír volt.
A hangulat viszont pokoli jó volt, meg egyébként is jól vizsgázott a hely, szóval időről-időre garantáltan visszatérünk még majd ide. Zeneileg pedig tovább tartott a nyári dömping, így a legutóbbi bulihoz képest is irgalmatlan sok újdonság bukkant fel, a JPop (FAKY!) / KPop (Bigstar!) vonalról, meg máshonnan (Welcome To The Jungle remix!!) is.
És mivel a conról (ami egyébként nosztalgiázásnak tökéletes volt), most nem lesz külön bejegyzés, ezért az ottani videólistát is megtaláljátok a szokásos party-tracklista előtt. A teljes képadag pedig itt, a fórumon!
MAT ANIMECON – videóvetítés
01.coldrain: The War Is On (video)
02.f(x): Rum Pum Pum Pum (video)
03.Tomohisa Yamashita: Nocturne (video)
04.Alice Nine: Affection (video)
05.BIGSTAR: Run & Run (video)
06.Luna Sea: Thoughts (video)
07.M.I.B: Dash (Men In Black) (video)
08.HenLee: Are You Drunk (video)
09.Koda Kumi: LALALALALA (video)
10.lynch.: Night (video)
11.FAKY: Better Without You (video)
12.Maximum The Hormone: yoshu fukushu (video)
13.Jungukgu: Fashion City (video)
14.Akanishi Jin: Hey What's Up (video)
15.B.A.P: Hurricane (video)
16.Crossfaith: Eclipse (video)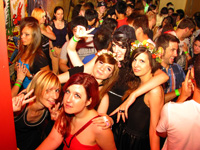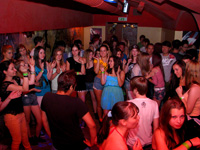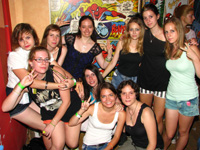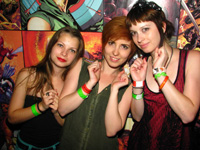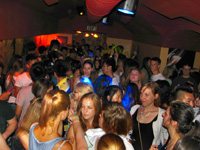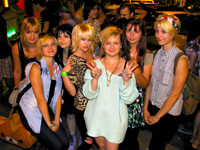 NIPPON GROOVE
*Case
BD THe Brobus: Space Oafu feat. K-Bomb, Nipps
Watapachi: AK Gurls
DJ Sliink: Put Cha Back In It (DJ Sliink In Tokyo Watapachi Remix)
Watapachi: LOve It (Thomas White x Dear Lola x Kid Bassline remix)
Leikeli47: Heard Em Said (Watapachi remix)
Watapachi: Buss It
TNT: Double Dutch Darkie (Watapachi remix)
Watapachi: Stuntin'
La Tourette: Get Busy (Taku Takahashi remix)
m-flo: Run (Knoxx remix)
B.A.P: No Mercy
Henry: 1-4-3 (I Love You)
SHINee: Why So Serious?
SNSD: Chocolate Love
Kis-My-Ft2: ai no Beat (Dance version)
Namie Amuro: Heaven
Team H: I Just Wanna Have Fun
Mizz Nina: Arund The World feat. Jay Park
2NE1: Scream
T-Ara: Sexy Love
Tommy february6: Runaway
Fiestar: Wicked feat. Tiger JK
Wonder Girls: Like Money feat. Akon
Akanishi Jin: Test Drive (7th Heaven remix)
Jo Kwon: Animal
Yamashita Tomohisa: Nocturne
Super Junior: A-Cha
GD&TOP: High High (Epitone Dutch Remix)
Girls' Day: Expectation
Beast: Beautiful Nght
Capsule: I Just Wanna xxx You
The Bloody Beetroots: Warp 1.9 (Steve Aoki remix)
2NE1: I Love You (Epitone Remix: Club Version)
Bigstar: Run & Run
Namie Amuro: Hands On Me
Alvaro & Mercer: Welcome To The Jungle feat. Lil Jon (Y.G.S.P. Trap Remix)
G-Dragon: One Of A Kind
YDG (Yang Dong Gun): Give It To Me feat. Dok2 & The Quiett
The Raiders: What U Gonna Do feat. Yukali & KM-Markit
Kat-Tun: Flash (Jonnosuke Taguchi)
Lee Jung Hyun: V
4Minute: What's Your Name
Hiromi: Oh Oh
*Ji
Kim Sori: Dual Life
Dexpistols: Midnight Sevenstars (Rap Mix)
Crispi Crunch: Sajangnim Nice Shot!
EXID: I Feel Good
Block.B: Nililli Mambo
Miyavi: Horizon
2ne1: I'm The Best
M.I.C: Single Ladies
EXO: Wolf (Korean)
T-Ara: Roly Poly
Koda Kumi. The Little Mermaid (N15H vs. HEAVE D'n'B Remix)
Big Bang: Fantastic Baby
Linked Horizon : guren no yumiya
PSY : Gangnam Sytle
G-Dragon: Crayon
Chunja: Tonight
T-Ara: Lovey Dovey
UKiss: Tick Tock
Vixx: hyde
Big Bang vs LMFAO!: Party Rock Anthem Goes High High (VDJ Funky T Remix)
SHINee: Ring Ding Dong
T-Ara N4: Jeon Won Diary feat. Double Kick & Taewoon
MBLAQ: Mona Lisa
Teriyaki Boys: Tokyo Drift
B.A.P: Hurricane
UKiss: Forbidden Love
SHINee: Lucifer
2NE1: Folowe Me
Tomohisa Yamashita: One In A Million
Team H: Liquor Shot
Crossfaith: Omen
PSY: Gentelman
Perfume: Handy Man
*Case
Akanishi Jin: Hey What's Up?
Infinite: Destiny
SHINee: Dream Girl
FAKY: Better Without You
Steve Aoki: I'm In The House feat. Zuper Blahq
m-flo: Perfect Place (Booty Bronx remix)
Capsule: Player
Namie Amuro: In The Spotlight (Tokyo)
Zico: No Limit
G-Dragon: michiGO
JunHyung, FeelDog, LE: You Got Some Nerve
Jay Park: Appetizer
S-Word: World Summit
EXO: Growl (Korean)
Henry: Trap feat. Kyunhun & Taemin
Koda Kumi: Touch Down
Super Junior: Mr. Simple
Donghae & Eunhyuk (Super Junior): I Wanna Dance
Teen Top: Miss Right
Beast: Shadow
Evol: We Are A Bit Different
Kat-Tun: Star Rider
Kis-My-Ft2: Shake It Up
f(x): Electric Shock
Akanishi Jin: Bass Go Boom
Block.B: Nalina
M.I.B: Dash (Men In Black)
2NE1: Falling In Love
Verbal: Change Change feat. Nicki Minaj
Kim Hyun Joong: Unbreakable feat. Jay Park
Big Bang: Tonight
Namie Amuro: Wonder Woman feat. Anna Tsuchiya & AI
Bigstar: Run & Run
SS501: Dejavu
BTS (Bangtan Boys): No More Dream
Akanishi Jin: That's What She Said
Rania: Up
*Ji
2NE1 & Big Bang: Lollipop
Orange Caramel: Lipstick
Se7en: Digital Bounce
UKiss: Neverland
LIA: tsuki warabe (Reese Remix)
Jay Park: Body2body
B.A.P: Power
Evol: Get Up
Jay Park: Wasted
Orange Range: ikenai taiyo
M.I.B: G.D.M
LEDApple: Time's Up
DBSK: Rising Sun
Beast: Encore
DBSK: Tri Angle
*Case
SHINee: Evil
BTS (Bangtan Boys): We Are Bulletproof Pt.2
Lykke Li: Until We Bleed (Cleindl remix)