Valahogy mostanában annyira nem vagyunk szerencsések a dátumokkal, a pécsi bulinak is kicsit keresztbe tett, hogy pont az ottani egyetemi napokra esett, itt meg a ballagás-érettségi szezon zavart be, de azért így is voltunk majd 180-an, szóval nem volt azért vészes a dolog egyáltalán. Nomeg ugyebár vannak olyan időszakai az évnek (mint ez is), amikor egyszerűen nem lehet úgy időpontokat kiválasztani, hogy valami egyéb ez-azok (vizsgaidőszakok és egyéb csudák) ne zavarjanak be. Mondjuk érdekes viszont, hogy ehhez képest nem egy embertől jött vissza az, hogy ez volt a Yukba költözés óta a legjobb Nippon Groove buli, zeneileg is, meg hangulatilag is. Előbbihez persze kétségtelenül nagy segítség volt az is, hogy az utóbbi egy-két hónapban ritka sok maximálisan party-barát újdonság jelent meg… ott van ugye rögtön az új m-flo lemez, amiről még most sem sikerült mindent sorra keríteni, annyira erős anyag lett (nem véletlen szerepel az aktuális flyeren is Verbal, a duó egyik fele), ráadásul időközben kijött hozzá egy remixalbum is, ami meg aztán pláne tömve van gyöngyszemekkel (a Knoxx és a Booty Bronx remix…!!!!). Emellé volt még új SHINee (amiről az egészen tökéletes zárószám is származott), MyName, Kis-My-Ft2, G-Dragon, Girl's Day, a T-Ara alprojekt N4, Kiyoshi Sugo, PSY, Jungukgu, Delight, nomeg persze Namie Amuro! Nem beszélve azokról, amiket valahogy sikerült kifelejteni… mint az aktuális Yamapi, 4minute és Jay Park! Szóval ezeket majd legközelebb pótoljuk, vagyis júniusban, méghozzá 15-én, azaz végre újra szombaton! Akkor ráadásul újra lesz majd JRock kisterem is, nomeg addig még lesz a DJ Sisen féle mega-party is a hó végén! Képek, ahogy mindig, most is a fórumon (itt!), alább pár izelítőnek, plusz persze a kötelező tracklista!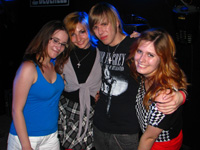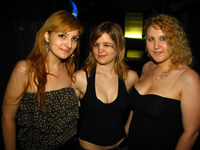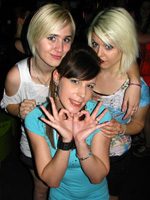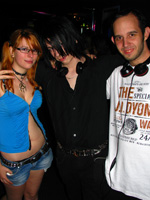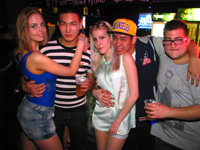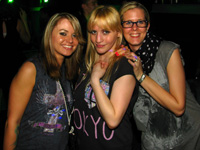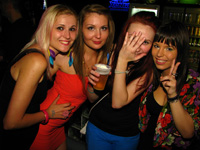 *Case
Capsule: Feelin' Alright
Kan Takahiko: Fragment (Ebina Yutaka remix)
M.S.K.: Contacti
Kan Takahiko: Better Way
Dexpistols: New Jack House (Galbitch "No Rap" Acidfloor Remix)
Dexpistols: New Jack House (Kan Takahiko Remix)
Shinichi Osawa: Singapore Swing
Dexpistols: Bird Of Paradise (MYSS Remix)
DJ Tasaka: Ganz Ganguro
Towa Tei: Melody (Grant Nelson's M25 Remix)
Akanishi Jin: Sun Burns Down (Razor & Guido Main)
Beast: Breath
m-flo: Perfect Place (Booty Bronx Remix)
After School: Flashback (Epitone Remix)
T-Ara: Roly Poly
T-Ara: Roly Poly (Epitone Remix)
SHINee: Ready Or Not
Teen Top: Get Crazy
Big Bang: Last Farewell
DBSK: Fated
MBLAQ: Run
KGE The Shadowmen: Still Street
Block.B: No Joke
YDG (Yang Dong Gun): Give It To Me feat. DOK2 & The Quiett
Exo-K: History
Super Junior: Sexy, Free & Single
Beast: Shock
Ajapai: Get Down Lay Down
Wonder Girls: The DJ Is Mine
Lee Mortimer & Foamo: Superman (Ajapai Remix)
2NE1 vs Briney Spears: I Am Toxic
B.A.P: Punch
Team H: Feet The Beat
AAA: Party It Up
Yamashita Tomohisa: Party Don't Stop feat. DJ Dask
UKiss: Party All The Time
Miryo: Party Rock
Steve Aoki: Wake Up Call
GD&TOP: High High (Epitone Dirty Dutch Remix)
Beast: Beautiful Night
Kat-Tun: Star Rider
Namie Amuro: In The Spotlight (Tokyo)
G-Dragon: MichiGO
m-flo: Run (Knoxx Remix)
Cardz And ENA: Hinotama-Boy (VIP Remix) feat. DJ Ken-One
Geeks: Siren feat. Swings
G-Dragon: One Of A Kind
Exo-K: Mama
*Ji
Kim Sori: Dual Life
EvoL: Get It Up
SNSD: Oh!
Teriyaki Boyz: Tokyo Drift
SHINee: Evil
T-Ara N4: Jeon Won Diary feat. Double Kick & Taewoon (Electronic remix)
Chunja: Tonight
Big Bang vs LMFAO!-Party Rock Anthem Goes High High (VDJ Funky T Remix)
EXID: I Feel Good
Big Bang: Fantastic Baby
After School: Bang
Xiah Junsu-Tarantallegra feat. Flowsik of Aziatix
House Rulez: Celebration
G-Dragon: Crayon
Crossfaith : Omen
f(x): Electric Shock
Block.B: Freeze
NEWS: sayaendo
Block.B: Nalina
UKiss: Tick Tack
Lia: tsuki warabe (Reese Remix)
PSY: Gentelman
PSY: Gangnam Style
G-Dragon: Knock Out
Koda Kumi: No Mans Land (4 Skips D'n'B Remix)
Block.B: Nillili Mambo
T-Ara: Lovey Dovey
Ajapai: Incoming… (Taku Remix)
Kiyoshi Sugo: P.A.R.T.Y.
UKiss: Forbidden Love
Ze:A: Dirty Cat
Niko: Night Of Fire
Big Bang: Lollipop
*Case
Orange Caramel: Bangkok City (Epitone Remix)
m-flo: Yeah!!
*Ji
Rania: Just Go
Super Junior M: Break Down
*Case
SHINee: Why So Serious?
Kat-Tun (Koki Tanaka): Dangerous Cat ~Make Me Wet~
Delight: Mega Yak feat. P.O of Block.B
Mr. A: Tell Me Why? feat. Touliver
Teen Top: Miss Right
MyName: We Are The Night
Steve Aoki: I'm In The House feat. Zuper Blahq
m-flo: Perfect Place (Booty Bronx Remix)
Capsule: World Of Fantasy
mini: Are U Ready?
Namie Amuro: Wonder Girl feat. Anna Tsuchiya & AI
UKiss: Standing Still
Wonder Girls: Like This
Jay Park: Appetizer
M.I.B.: Beautiful Day
Exo-K: Two Moons
Kat-Tun: The D-Motion
Kis-My-Ft2: Shake It Up
Orange Caramel: Lipstick
Super Junior: Oppa, Oppa
Namie Amuro: Big Boys Cry
Akanishi Jin: Aphrodisiac
Infinite: The Chaser
SHINee: Dream Girl
SHINee: Nightmare
SHINee: Lucifer
The Bloody Beetroots feat. Steve Aoki: Warp 1.9
T-Ara: Sexy Love
Jungukgu: Fashion City
DJ Sliink: Put Cha Back In It (DJ Sliink In Tokyo Watapachi Remix)
SM The Performance: Spectrum
B.A.P: Power
B.A.P: One Shot
Kis-My-Ft2: Black & White
BTOB: WOW
G-Dragon: Light It Up feat. Tablo, Dok2
S-Word: World Summit
MBLAQ: Mona Lisa
Super Junior: Mr. Simple
Ayumi Hamasaki: Sparkle
Girl's Day: Expectation
Generations: Animal
UKiss: Neverland
T.O.P.: Turn It Up
Akanishi Jin: Bass Go Boom
Brown Eyed Girls: Abracadabra
Teen Top: Miss Right
DBSK: Catch Me
SHINee: Orgel