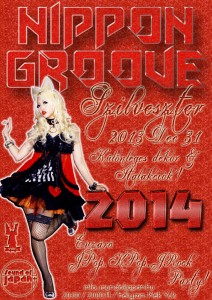 2013-at, immár sok éves hagyományt követve ismét a Kék Yukban zártuk egy extra-hosszú bulival (kilenc helyett nyolckor kezdtünk és a végén is ráhúztunk nagyjából fél órányit) és hasonlóan a korábbi évekhez, most is nagyjából 300 emberrel. Azonban most annyi különbség volt a korábbi évekhez képest, hogy nem a nagyteremben nyomtuk vegyes stílusban a zenéket, hanem az évközbeni Nippon Groove bulikhoz hasonlóan ott megmaradtunk a pop / electro vonalnál, míg a kisteremben a JRock és visual kei volt a főszerepben… most Gaara mellett kivételesen Neshi prezentálásában.
Party szempontból egyébként is nagyon mozgalmas évet zártunk: minden hónapra jutott egy NG, sőt, augusztusra kettő is, csak az április maradt ki, amikor a Nippon Shoxx tizedik szülinapját ünnepeltük. Ezek mellett voltunk háromszor Szegeden, egyszer Pécsen, a nyári NG-k közül kettő egyben con afterparty is volt, Halloweenkor pedig minden eddigi látogatottsági rekordot megdöntöttünk. Szóval masszív volt a felhozatal, egy dolog hiányzott csak: a tavasz utáni Nippon Shoxx bulik. Februárban viszont ez is pótolva lesz és a hó közepén végre újra csinálunk egy 100% színtiszta rock bulit is! Addig azonban jön még egy NG (jan 25), későbbre pedig van pár merész tervünk, de ezekről majd úgyis lesz bőven szó, ha eljön az ideje!
És, hogy milyen volt maga az évzáró buli? Azt hiszem méltó az alkalomhoz. Tömött tánctérrel és színpaddal, meg persze előtérben a legjobb, legfelkapottabb 2013-as zenékkel, melyek közül igyekeztünk minden fontosabbat előszedni. És most, az utolsó egy percben, a visszaszámlálásba való két évvel ezelőtti totális belezavarodás után végre (a wifi és internet segítségével, modernség fuck yeah!) másodpercre pontosan üvöltöttük együtt az évből még hátralevő másodperceket. Jövőre veletek ugyanitt, de addig is szeretés van! <3
(Alább a tracklisták, plusz pár kép, a teljes képadag pedig szokás szerint itt található >> click!! << pictures here!)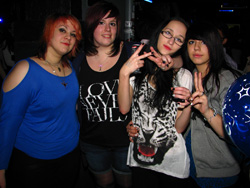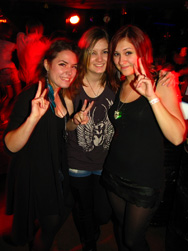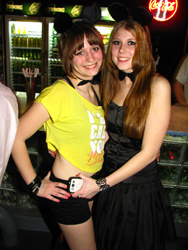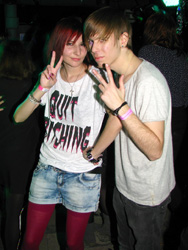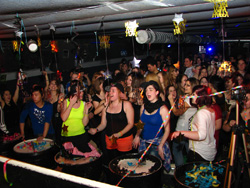 Plusz, ha valaki lemaradt volna róla, akkor itt is van egy jókora adag fotó a buliból!
NAGYTEREM
*Case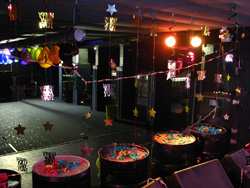 Fumihiko Takei: Paletilla
TAAR: Sleeper Train (JIG re:mix)
DJ Shufflemaster: Angel Gate
Water Field: Distance
Kan Takahiko: Sun Light
m-flo: Love Long And Prosper (Diplo Remix)
The Lowbrows: Linda Is Tonight
Digiki: Kraftpunk (Dexpistols remix)
Capsule: Jumper
MYSS: O.P.P.
DJ Rush: Freaks On Hubbard (DJ Shufflemaster remix)
Water Field: Last Night Eve
Anna Tsuchiya: Crazy World (Fantastic Plastic Machine remix)
Laidback Luke & Steve Aoki: Turbulance feat. Lil Jon
Orange Caramel: Bangkok City (Epitone Summer Remix)
Capsule: Prime Time
Namie Amuro: Damage (80kidz Remix)
SM The Performance: Spectrum
Mitomi Tokoto: That Ibiza Track
Team H: Feel The Beat
Super Junior: Sorry, Sorry
SHINee: Dream Girl
G-Dragon: Shake The World
Akanishi Jin: Scream It
Kis-My-Ft2: Shake It Up
2NE1: Scream
Teen Top: Mr. Bang feat. Maboos, Chakun
G-Dragon: One Of A Kind
YDG (Yang Dong Gun): Give It To Me feat. Dok2 & The Quiett
Rain: Rainism
BTOB: WOW
SNSD: Galaxy Supernova
Myname: We Are The Night
Teen Top: Rocking
Namie Amuro: In The Spotlight (Tokyo)
The Bloody Beetroots feat. Steve Aoki: Warp 1.9
Steve Aoki & Tujamo & Chris Lake: Boneless
Akanishi Jin: Hey What's Up?
Bigstar: Run & Run
Infinite: Destiny
Crayon Pop: Bar Bar Bar
Alvaro & Mercer: Welcome To The Jungle feat. Lil Jon (Y.G.S.P Trap Remix)
Watapachi: Cocaine
T.O.P: Doom Dada
BTS (Bangtan Boys): N.O.
Jay Park: Trill feat. Dok2
Watapachi: SCKNGHT feat. Stephanie
EXO: Wolf (Korean)
B.A.P: Hurricane
Tomohisa Yamashita: Nocturne
Namie Amuro: Hands On Me
Tiny-G: Miss You
*Ji
Block.B: Very Good
Lee Jung Hyun: V
Miyavi: Horiozon
Crispi Crunch: Sajagnim Nice Shot
G-Dragon: Crayon
Block.B: Nililli Mambo
2NE1: I'm The Best
Kim Sori: Dual Life
PSY: Gentelman
Crossfaith: Omen
T-Ara: No.9
Vixx: Hyde
Jay Park: Wasted
***************2014***************
FTIsland: Try Again
*Case
Major Lazer: Bubble Butt feat. G-Dragon, T.O.P, Bruno Mars, Tyga, and Mystic
EXO: Growl (Korean)
Swings: Bulldozer
Henry: Trap feat. Kyuhyun & Taemin
Koda Kumi: Touch Down
*Ji
T-Ara: Roly Poly
SS501: Love Like This
Orange Caramel: Lipstick
Beast: Shadow
Big Bang: Fantastic Baby
MBLAQ: Mona Lisa
Teen Top: Rocking
UKiss: Neverend
Beast: Breath
Super Junior (Donghae & Eunhjuk): I Wanna Dance
Dexpistols: Midnight Sevenstars
BAP: Power
Super Junior: Tuxedo
AAA: 8 Wonder
Shinee: Ring Ding Dong
Beast: Shock
2NE1: Folow Me
Toppdog: Say It
*Case
Akanishi Jin: Summer Loving
Super Junior: Blue World
Hey!Say!Jump: Beat Line
Taeyang: Ringa Linga
BTS (Bangtan Boys): We Are Bulletproof pt. 2
Watapachi: Stuntin'
2NE1: Falling In Love
Shinhwa: This Love
Jungukgu: Fashion City
Seungri: Gotta Talk To U (Hard Remix Version)
VIVIVID: Love 2 Move (Bapjap remix)
Ayumi Hamasaki: Feel The Love (DJ Hello Kitty remix)
Capsule: I Just Wanna xxx You
Beast: Beautiful Night
G-Dragon: Crooked
SNSD: Genie
Super Junior: Oppa, Oppa
Generations: Animal
Kat-Tun (Akanishi Jin): LoveJuice
Wonder Girls: Like Money feat. Akon
DBSK: Catch Me
FAKY: Better Without You
T-Ara: Lovey Dovey
Dexpistols: Bird Of Paradise
Steve Aoki: Wake Up Call
2PM: Hands Up
Xiah Junsu: Tarantallegra
MBLAQ: Smoky Girl
D=Out: kanden 18 gou
f(x): Electric Shock
G-Dragon: Coup d'etat feat. Diplo & Baauer
Super Junior: Mr. Simple
Kat-Tun (Jonnosuke Taguchi): Flash
Far East Movement: Like A G6
2NE1: I'm The Best (Epitone Remix)
SNSD: The Boys
Akanishi Jin: Oowah
Zico: No Limit
G-Dragon: MichiGO
S-Word: World Summit
Girl's Day: Expectation
M.I.B: Dash (Men In Black)
Trouble Maker: Trouble Maker
B1A4: OK
Namie Amuro: Heaven
m-flo: Perfect Place (Booty Bronx Remix)
*Ji
Nomico: Bad Apple!!
After School: Flashback
Linked Horizon: guren no yumiya
Orange Caramel: Aing
Dexpistols: House In My House
T-Ara: Sexy Love
GD&TOP: High High
Ze:A: Dirty Cat
2NE1: Scream
Big Bang: Crazy Dog
Teriyaki Boyz: Tokyo Drift
Orange Range: Ikenai Taiyo
Kim Hyun Joon: Lucky Guy
*Case
UKiss. She's Mine
EXO: Let Out The Beast
AK-69: My Time
Tommy february6: Runaway
Big Bang: Tonight
Major Lazer: Bubble Butt feat. G-Dragon, T.O.P, Bruno Mars, Tyga, and Mystic
Momoe Yamaguchi: mabushii shisen
KISTEREM
*Gaara
OZ: Last Shell
Babylon: Leopardess Marry
Dir en grey: Garden
Malice Mizer: N.p.s N.g.s [N-type]
Matenrou Opera: Diorama Wonderland
D'espairsRay: In Vain
D: ouka saki some ni keri
An Cafe: S.B.Y
*Neshi
Crossfaith: Snake Code
Cinema Staff: Great Escape
Matenrou Opera: Camel
Signal: Undertake
Deathgaze: Undead Fact
DIV: Love Is Dead
SiM: Living Dead
Lycaon: Aventure
Screw: Brainstorm
GLAY: itsuka
Luzmelt: Sacrifice
SuG: Pastel Horror Yum Yum
Lycaon: Eros
X Japan: Drain
Dir en grey: Raison d'etre
GLAY: 1988
Phantasmagoria: shinsokyoku -Variant Jihad-
X Japan: Rusty Nail
GLAY: Two Bell Silence
Deathgaze: Chaos
Luna Sea: Rosier
DéspairsRay: Last Scene
LM.C: Bell The Cat
SiM: Turn Around
Acid Black Cherry: Pistol
Gazette: No.666
One OK Rock: kanzen kankaku Dreamer
9Goats Black Out: Black Black
Soft Ballet: Optimal Persona
Nightmare: The World
GLAY: Verb
Merry: Bruisy Night
DéspairsRay: Mirror
*Gaara
An cafe: Amazing Blue
Buck-Tick: Physical Neurose
Screw: The Abyss
Dir en grey: Child Prey
An Cafe: koritsu Hospital
Sadie: Meteor
Girugamesh: Crime -tsumi-
Dir en grey: Obscure
An Cafe: 3P
One OK Rock: Liar
Buck-Tick: Love Letter
Gackt: Vanilla (Mars Version)
Megaromania: Quintessence Voyage
Gazette: Cockroach
Dir en grey: Cage
Sads: Porno Star
One OK Rock: The Beginning
Velvet Eden: Witch In Flames
Versailles: The Red Carpet Day
Gackt: Redemption
Crossfaith: Omen
One OK Rock: Deeper Deeper
Velvet Eden: Sad Mask
OZ: Detox
DéspairsRay: Hollow
AnCafe: Ryuusei Rocket
Buck-Tick: Climax Together
Maximum The Hormone: zetsubo Billy
Versailles: Libido
Acid Black Cherry: Doomsday Clock
D: Night Ship "D"
Born: karasu
*Neshi
Golden Bomber: Dance My Generation
X Japan: Week End
Lin: Flowers Bloom
Dir en grey: Cube
DéspairsRay: Death Point
LM.C: Oh My Juliet
Lin: Metamorphose
Acid Black Cherry: Murder License
SiM: Killing Me
Dir en grey: Agitated Screams of Maggots
Lin: Silent to my pain
Girugamesh: Evolution
Buck-Tick: Iconoclasm
SiM: Murderer
Nightmare: Dirty
One OK Rock: No Scared
Acid Black Cherry: Glamorous Sky
Miyavi: Neo Visualism
TM Revolution: Invoke
DéspairsRay: Love Is Dead
Vamps: Revolution
Acid Black Cherry: Spell Magic
Crossfaith: Jägerbomb
FTIsland: I Wish
Sads: Porno Star
Girugamesh: Break Down
LM.C: Mad Or Die
One OK Rock: C.h.a.o.s.m.y.t.h.