Ez volt az év utolsó hagyományos, havi Nippon Groove bulija, beékelve a két nagy dobás, a Halloween és a szilveszter közé és ahogy lenni szokott, ez persze nem volt olyan nagyszabású, mint azok, de még úgy is, hogy péntekre esett az party, összejöttünk bő kétszázan. Ez egy kicsit amolyan évösszegzős este is volt, így most egy kicsit jobban előtérben voltak a 2015-ös újdonságok, nomeg az idei KPop rookie csapatok és persze mostanra is jutott pár friss, a legutóbbi party óta kijött zene, főszerepben a B.A.P / VIXX / CL hármassal. Folytatás pár hét múlva az évzáró, szilveszteri bulival, utána pedig jövőre megint veletek ugyanitt!
>>> Képek / Photos <<<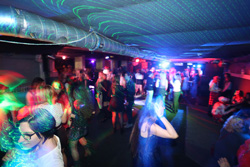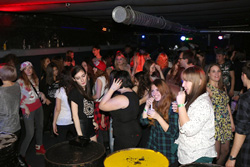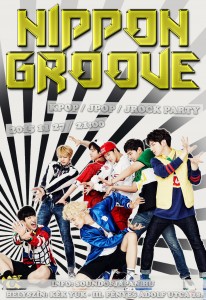 *Case
DJ Kyoko: Chim Chim Cher-ee
Capsule: I Just Wanna xxx You
Mitomi Tokoto: That Ibiza Track
The Lowbrows: WOW
Anna Tsuchiya: Crazy World (Fantastic Plastic Machine Remix)
Steve Aoki: Wake Up Call
Namie Amuro: Hide & Seek
BTS: The Rise Of Bangtan
Donghae & Eunhyuk: Motorcycle
B.A.P: Warrior
DBSK: Something
N.Flying: Awesome
Rain: 30Sexy
SNSD: Party
Teen Top: Oh! Good
Monsta X: Rush
Madtown: Yolo
Nop.K: King Cobra feat. Don Mills
SNSD-TTS: Holler
Super Junior: Mr. Simple
m-flo: Perfect Place
Kara: Step
Big Bang: Tonight
Namie Amuro: Neonlight Lipstick
B1A4: O.K
Seventeen: Rock
Amber: Shake That Brass feat. Taeyeon of SNSD
KAT-TUN: The D-Motion
Akanshi Jin: Hey What's Up?
SHINee: View
GOT7: Just Right
Monsta X: Trespass
24K: Superfly
Namie Amuro: Stranger
Donghae & Eunhyuk: Can You Feel It?
NEWS: Chumu Chumu
Beast: Good Luck
BTS: Dope
B.A.P: Young, Wild & Free
Crossfaith: Wildfire feat. Benji Webbe of Skindred
Big Bang: Sober
*Ji
T-Ara: Sugar Free (Big Room Version)
Hello Venus: I'm Ill (Club Remix)
Crispi Crunch: Zzang Zzang Man (Radio edit)
DJ Hanmin: Put Your Phones Up feat. Crisp Cunch
CL: Hello Bitches
CL: MTBD
Bastarz: Zero Conduct
Monsta X: Hero
4minute: Crazy
Orange Caramell: My Copycat
2NE1: I Am the Best
Taeyang: Ringa Linga
Big Bang: Bang Bang Bang
GD x Taeyang: Good Boy
B.A.P: Hurricane
Block B: H.E.R
Yoji Biomachanika: The Place for Freedom
Exid: Ah Yeah
T-Ara: Little Apple feat. Chopstick Brothers
Bobby: Go
JYP: Who Is Your Mama feat. Jessi
VIXX: Chained up
Epik High: Born Kalifa
M.I.B: Chisa Bounce
DJ Ozma: Chou
EXO: Call Me Baby (Korean)
DJ Doc: I'm A Guy Like This
Super Junior: Mamacita
Se7en: Digital Bounce feat. T.O.P
DJ Doc:Play
DBSkK Keep Your Head Down
iKON: Anthem (B.I & Bobby)
Wassup: Wassup
Steve Aoki & Chris Lake & Tujamo: Boneless
Big Bang: Fantastic Baby
*Case
T-Ara: Bo Peep
Block B: Very Good (DJ Ferry Remix)
Sak Noel, Kuba & Neitan, Mayra Veronica feat. FEMM & FAKY-No Boyfriend (Japanese Version)
Kyary Pamyu Pamyu: Candy Candy (Remix)
Hyuna: Roll Deep feat. Ilhoon of BTOB
Myname: Too Very So Much
Jay Park: Mommae feat. Ugly Duck
2PM: Go Crazy!
UNIQ: EOEO
Seventeen: Jam Jam
Infinite: Bad
SHINee: Married To The Music
Hwangtaeji (Kwanghee, Taeyang, GDragon): Mapsosa
Major Lazer: Bubble Butt feat. Bruno Mars, GD&TOP, Tyga & Mystic
T.O.P: Doom Dada
EXO: Overdose (Korean)
iKON: Rhythm Ta
2NE1: Do You Love Me
Girl's Day: Ring My Bell
J Soul Brothers: J.S.B Dream
Boys Republic: Party Rock
VIXX: Voodoo Doll
G-Dragon: Crooked
Tomohisa Yamashita: Nocturne
FEMM: Wannabe
Seungri: Gotta Talk To U (Hard Remix Version)
AOA: Like A Cat
Tiny-G: Miss You
Minho & Zico: Okey Dokey
Jessi: sseunni
Seventeen: mansae
Skrillex & Diplo feat. G-Dragon & CL: Dirty Vibe
SHINee: Ring Ding Dong
DJ Hanmin: Show Me Yor BBA SAE feat. Ingram Jones
VIVIVID: Love 2 Move (Bapjap Remix)
GD&TOP: High High (Epitone Dirty Dutch Remix)
Teen Top: Rocking
2PM: Hands Up!
A-Queen From Burlesque Tokyo: Miracle Night
BTS: War Of Hormone
Super Junior: Devil
Rania: Demonstrate
Hello Venus: Wiggle Wiggle
Bigflo: Obliviate
FAKY: Better Without You (Remo-con remix)
EXID: Up & Down
Hyuna: Red
Yooh: Solomon
T-Ara: Number 9
T-Ara: Roly Poly (Epitone Remix)
Big Bang: Bang Bang Bang
Psychic TV: S.M.I.L.E.
KISTEREM
*Shin
Nano: Born To Be
Screw: Vegas
Mejibray: madari
Yohio: Welcome To The City
Aural Vampire: Freeeze!!!
-Oz-: Bitter & Sweet
SUG: Love Scream Party
Girugamesh: Resolution
One OK Rock: Never Let This Go
the GazettE: Vermin
Crossfaith: Jägerbomb
Anna Tsushiya: Rose
One OK Rock: The Beginning
Snowkel: Namikaze Satellite
Luna Sea: Deja Vu
Miyavi: Ahead Of The Light
Sadie: Kagerou
Lm.C: Bell The Cat
Royz: New Age
Ladybaby: Nippon Manin
Golden Bomber: memeshikute
the GazettE: Incubus
Nano & Vin: PonPonPon
An Cafe: Cherry saku yuuki
One OK Rock: No Scared
My First Story: Neurose
Miyavi: Horizon
the GazettE: Ugly
Fear And Loathing In Las Vegas: Let Me Hear
Buck-Tick: muma – The Nightmare
Yohio: Sky Limit
Sadie: Meteor
the GazettE: Cockroach
Girugamesh: Drain
T.M. Revolution: Resonance
D'espairsray: Hollow
Dir en Grey: Obscure
-OZ-: Detox
Lycaon: Shadow
-OZ- : Butterfly
Kiryu: Ruru
Crossfaith: Omen
Dj Sisen: Saga
One OK Rock: Way Back
OxT: Clattanoia
the GazettE: Inside Beast
Miyavi: Others
Maximum The Hormone: shimi
Alonez: Aqua Timez
Miyavi : Day 1
SiM: Blah Blah Blah
Gackt: Vanilla
the GazettE: Derangement
Fear And Loathing In Las Vegas: Just Awake
the GazettE: Leech
Gackt: Ever
Mejibray: Secret No. 1
the GazettE: Dogma
Dir en grey: Agitated Screams Of Maggots
LC5: Loveless
Mucc: saishuu reishaa
T.M.Revolution: Unravel
Lycaon: baka ne
Fade: One Reason
Yousei Teikoku: kyushu
Crowd Of Rebellion: Sattellite
Yellow Fried Chickenz: The End Of The Day
One OK Rock: jibun Rock
Lin: Silent To My Pain
Girugamesh: Antlion Pit
Miyavi: What A Wonderful World
Gackt: Ghost
One OK Rock: Cry Out
Despair's Ray: Love Is Dead
Miyavi: 2 Be With U
Despair's Ray: Death Point